Ainslie defeated Acton in the Second Semi-Final to move through to the Preliminary Final against Queanbeyan.
Final score: Ainslie 13.23-101 def Acton 6.10-46
Best: Griffiths, Manning, Watt, Bishop, Peacock, Welch, Maloney, Beggs, Dalton
Goals: Bastow 5, Maloney 3, Peacock 2, Watt 1, Beggs 1, Welch 1
Ainslie played Queanbeyan in the Preliminary Final at Manuka and won by 28 points.
Final score: Ainslie 9.13-67 def Queanbeyan 4.15-39
In the Grand Final Ainslie were defeated by Eastlake by 40 points.
Final score: Ainslie 4.6-30 def by Eastlake 9.16-70
Best for Ainslie: Griffiths, Manning, Bishop, Maloney, Peacock, Beilby, Welch
Goals: Bastow 1, Welch 1, Manning 1, Griffiths 1
Grand Final Team
George Welch (Capt.)
R. Moloney (V.Capt.)
J Griffiths
G Hanley
Callaghan
Walsh
Bastow
Kilpatrick
Peacock
F Bishop
C Greig
Beggs
Beilby
Alf Sutton
J Burr
K Carnall
G Manning
Baker
19th C Dalton emerg. W Pearce
Ainslie Awards
Most Improved Player: C. Dalton
Most Attentive Player at Training: W. Pearce
Club Office Bearers
President: F.C Green
Hon Vice-President: J Irvine
Vice-Presidents: Mulrooney, Davis, Millard
Treasurer: T Gillard
Delegates to the League: K. Carnall and E.V. Eason
Secretary: D. Dunlop
Committee: Rippon, Thompson, Bradley, Cottingham, Gregory
Coach: L Welch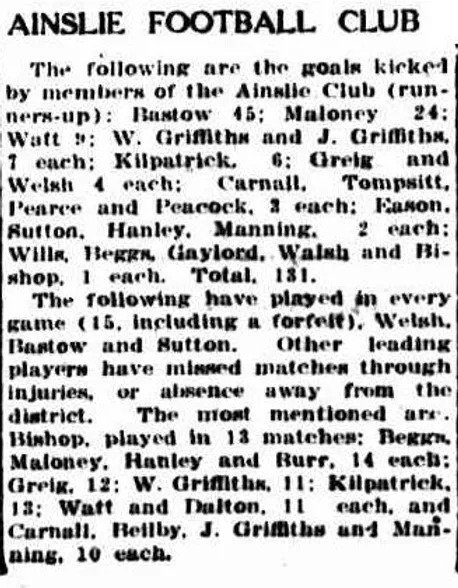 Player Statistics from Canberra Times 26 September 1928