In 1929 there were only four sides participating in the competition, Acton, Ainslie, Eastlake and Manuka.
Ainslie only won 4 out of the 15 Home and Away games losing their last 6 games and finishing in fourth position. However several ex-Queanbeyan players came across to Ainslie late in the season. The strengthened Ainslie team were successful in each round of the finals and won the Club's first Premiership.
In the Semi-Final Ainslie defeated the second side Acton
Final score: Ainslie 9.10-64 def Acton 4.8-32
Best for Ainslie: Williams, Tantau, Nolan, Sutton, Lalor, Welch, Richards, Sydes, Manning, Weller.
The Canberra Times Reported:
"Towards the end of the round they gave many ragged performances. On Saturday they played as one possessed. Their team work even dumbfounded their supporters, and their speed surprised their opponents."
Ainslie then defeated Manuka in the Preliminary Final played at Northbourne Oval.
Final score: Ainslie 13.9-87 def Manuka 7.7-49
Best for Ainslie: Tantau, Welch, Manning, Sydes, Williams, Prendergast, Richards, Probin.
Although beaten by Manuka in the Semi-Final Eastlake exercised their right as Minor Premiers to challenge Ainslie to be played as the Grand Final.
On September 28, 1929 Ainslie played in the Grand Final against Eastlake at Northbourne Oval
Final score: Ainslie 7.13-55 def Eastlake 6.11-47
Goal Kickers: Maloney 2, Tantau 2, Probin 2, Masters 1
Best players for Ainslie: Smith, Probin, Welch, Weller, Burr, Richards, Sutton and Tantau.
It was a rough and thrilling game with Ainslie winning by 8 points.
The Grand Final Team
Maurice Richards (Capt.)
Reg Maloney (V.Capt.)
Noel Anderson
John Masters
Cliff Williams
Gerald Manning
Jock Tantau
Alf Sutton
Clarence Weller
Richard Sydes
James Prendergast
Edmund Smith
Albert Nowlan
Cliff Probin
Henry Bastow
Colin Birch
James Burr
George Welch
19th Tim Walsh.
Cavan Lalor was a late withdrawal replaced in the side by Birch.
The team was coached by George Hanley in the first part of the season with Morry Richards taking over later in the season.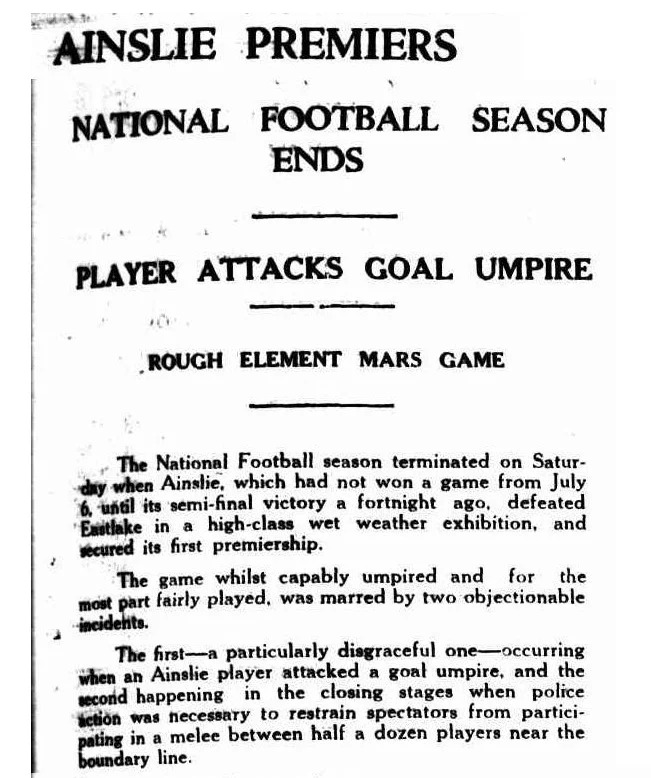 Ainslie Results 1929 – Home and away
Rd 1 Ainslie 9.9-63 def by Eastlake 10.6-66
Rd 2 Ainslie 8.11-59 def Manuka 7.9-51
Rd 3 Ainslie 5.3-33 def by Acton 10.15-75
Rd 4 Ainslie 8.8-56 def Eastlake 6.9-45
Rd 5 Ainslie 12.9-81 def Manuka 5.8-38
Rd 6 Ainslie 5.6-36 def by Acton 12.3-75
Rd 7 Ainslie def by Eastlake (Scores unknown)
Rd 8 Ainslie 13.11-89 def by Manuka 15.15-105
Rd 9 Ainslie 5.9-39 def Acton 3.15-33
Rd 10 Ainslie 11.6-72 def by Manuka 11.9-75
Rd 11 Ainslie 12.7-79 def by Acton 12.12-84
Rd 12 Ainslie 5.7-37 def by Eastlake 10.25-85
Rd 13 Ainslie 3.12-31 def by Manuka 10.14-74
Rd 14 Games abandoned
Rd 15 Ainslie 2.3-15 def by Acton 27.29-191
Rd 14 game replayed. Ainslie 2.5-17 def by 5.11-53
Club Office Bearers
President: F.C. Green
Vice Presidents: J.L. Mulrooney, G. Millard, C. Laverty, J. Irvine (St Kilda Secretary)
Committee: D. Mulcahy, E. Eason, C.R. Kennard, C. Gregory, W. Miles
Treasurer: T. Gillard
Secretary: D Dunlop
The year 1929 also marked the formation of the Ainslie Juniors.

The Club was formed on 22 April and Cliff Kennard was appointed manager.