The Canberra League consisted of 6 teams in the 1936 season, Acton, Ainslie, Eastlake, Goulburn, Manuka and Queanbeyan.
1936 was a very successful year for Ainslie after the disappointment of losing the 1935 Grand Final.
Dr Geoff Bourn was President and Bert Boorn was Secretary.
The team was Captain/Coached by Lionel James. George Collins was Vice-Captain.
The team went through the season undefeated and so became the first Champion team of the League.
Richard Roe became the Club's first Mulrooney medal winner.
George Collins kicked 99 goals to be the League's leading goal kicker for the second year in a row.
Ainslie played Eastlake in the second Semi Final and ran out easy winners by 108 points.
Final score: Ainslie 20.19-139 def Eastlake 4.7-31
Goal kickers: G Collins 9, L James 7, Roe 2, McNamara 1, Donohue 1.
Best: Roe, James, Collins, Williams, Atkinson, C Moore, D Moore, Dee, Bauld
Acton defeated Eastlake in the Preliminary Final to set up a Grand Final meeting with Ainslie on Saturday 26 September at Manuka Oval.
Mulrooney Medal winner Richard Roe was unavailable for the Grand Final.
Grand Final score:  Ainslie 11.11-77 def Acton 10.7-67
Goal kickers for Ainslie: Collins 5, James 2, Donahue 1, Dee 1, Loftus 1, D Moore 1
Best: C Moore,  Collins, Spendelove, Connelly, D Moore, James, Bauld, Dee, Donahue
Grand Final Team
L James (Capt.)
C Williams
H Loftus
C Moore
J Bauld
S Atkinson
C Burmister
N Lyng
J McNamara
R Spendelove
G Collins (V.Capt.)
A Bryan
S Dee
B Martin
J Connelly
T Evans
D Moore
J Donahue
L Worthy (19th)  Reserves: A Cutton, G Welch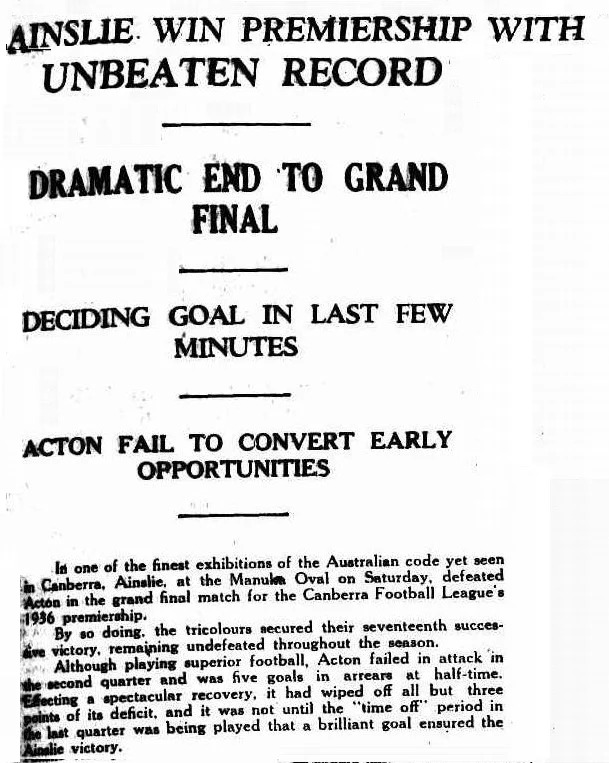 Headlines From Canberra Times 28 September 1936
Club Awards
Best & Fairest (Hibberson Cup): George Collins
Most Improved Player (J B Cleary Cup): Jack Donohue
Most Reliable Player: Cliff Williams
Most Unselfish Player: Brian Martin
Most Conscientious Player at Training: Tom Evans
Most Efficient Player: Colin Moore
Club Officials
President: G Bourne
Vice Presidents: C Gregory, R Reid, B Roberts, E Spendelove, J Mulrooney, M Martin, W Bradley
Committee: J Horgan, C Troy, F Grinsdale, F Gray, L Rowlands, P McNamara, S Rhodes, M Kildea
Treasurer: G J O'Neill
Secretary: A H Boorn
Ass Secretary: M Crombie
Delegates to the League: J F Cullopy, G Millard, A H Boorn
Life Membership was awarded to J Irvine, ex-secretary of the St Kilda Football Club for all the assistance he had given Ainslie during the past 10 years.