The First Grade Competition consisted of 6 teams, Ainslie, Eastlake, Manuka, Queanbeyan, RMC and Turner.
New players to Ainslie included Alan Ray, John Zuraczek, Laurie Smith, Bill Love and Barry McCabe.
Ainslie finished in fifth position with 6 wins and 9 losses, three games out of the top four.
The Ainslie First Grade team for the last round of the Home and Away Season was:
Cleary
Ray
Keogh
T Moore
Boorn
Birch
Perryman
Cain
Robertson
Pillage
Backen
K Moore
Murphy
Platt
Zuraczek
Whatman
Griffiths
McCabe
Love
Daniels.
Leading goal kickers for Ainslie were Smith 26, Zuraczek 26 and Backen 23.
Barry McCabe, the Ainslie centreman, won the Mulrooney Medal in a tie with Eastlake's Ern Hurtig.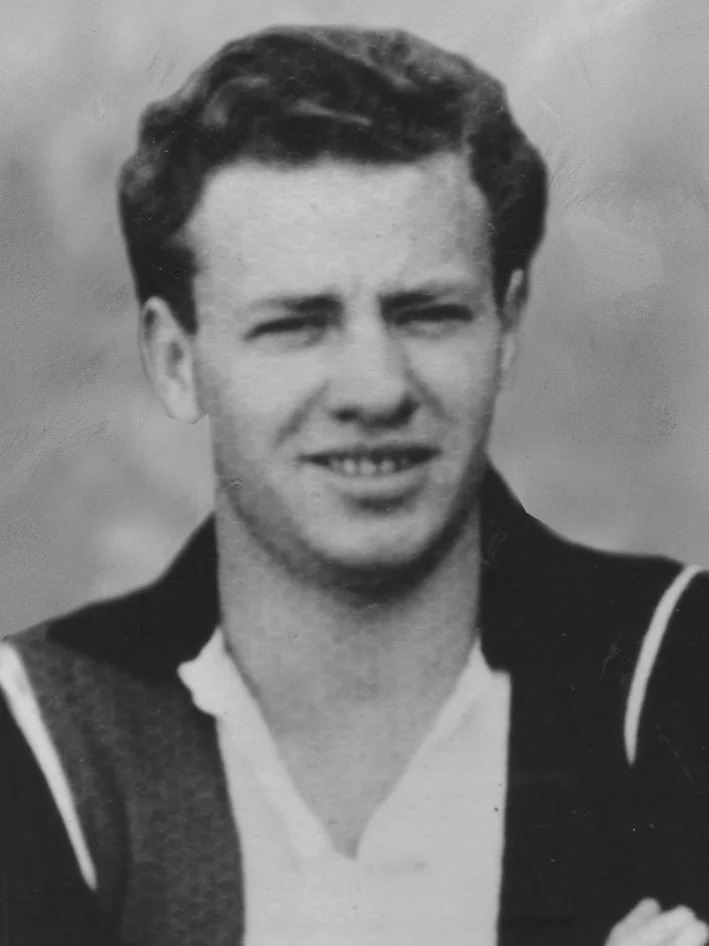 Barry McCabe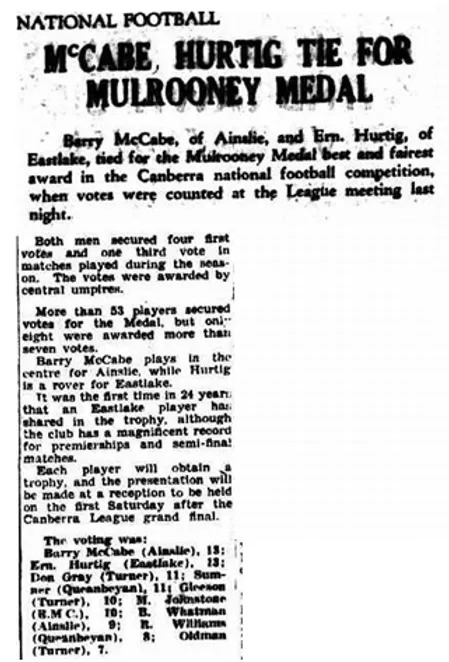 Before a crowd of 1500 at Manuka Oval the Royal Military College defeated Manuka by 15 points in the 1951 Grand Final, 14.14-98 to 12.11-83.
Ainslie celebrated the beginning of its 25th year holding a celebration in April in the Ainslie Hall.
Ainslie also moved to the new home ground of Ainslie Oval. Their old ground Northbourne Oval although enclosed was away from their growing population in the Ainslie district north of the city.
Ainslie Oval was not enclosed and had no Club rooms.
Work on the new Club rooms commenced on 29 October 1951 using a group of enthusiastic volunteers from the Club under the guidance of Harry Gaylard. Work was carried out on weekends for the next 58 weeks and the Clubrooms were completed 6 December 1952. The official opening took place on 13 December 1952.
1951 Ainslie Second Grade Team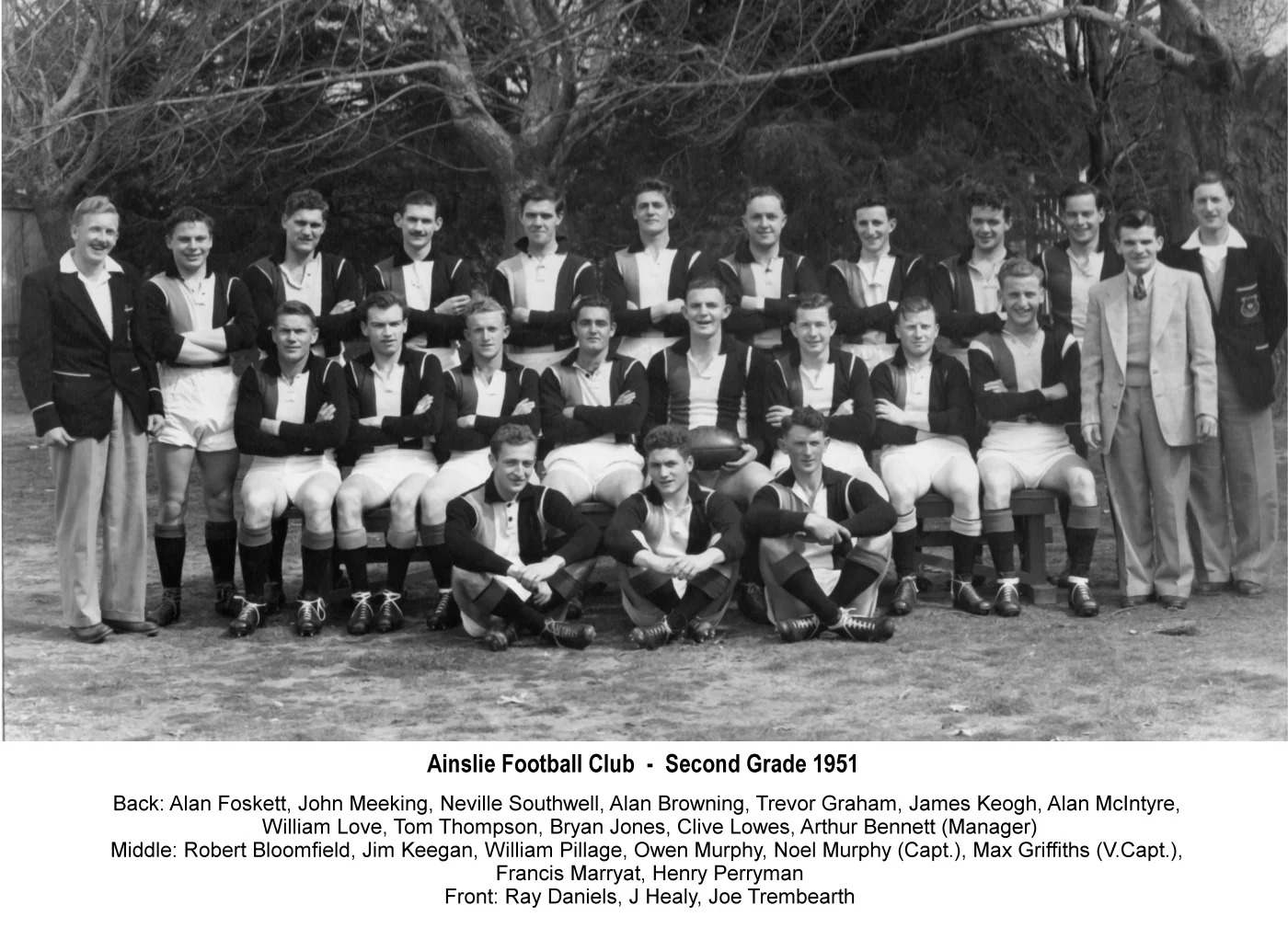 Second Grade
The Second Grade Competition consisted of 8 teams, Acton, Ainslie, Eastlake, Manuka, Queanbeyan, RMC 1, RMC 2 and Turner. Ainslie finished the home and away season in third position with 7 wins and 6 losses.
Ainslie defeated Manuka in the First Semi-Final by 12 points.
Goal kickers: Trembearth 3, Jones 2, Perryman 1, Bloomfield 1, Marryat 1, Thompson 1
Best: Murphy, Jones, Trembearth, Bloomfield
Ainslie Second Grade played in the Preliminary Final against RMC but were defeated to finish in third place.
Final score: Ainslie 11.5-71 def by RMC 17.12-114
Goal kickers for Ainslie: Trembearth 2, Thompson 2, Jones 2, Bloomfield 2, Meeking 2, Southwell 1
Best: Trembearth, Pillage, Marriott, Keegan, Griffiths
The Ainslie Second Grade team for the Preliminary Final was:
N Murphy (Capt.)
O Murphy
Keegan
McIntyre
Love
Southwell
Keogh
Foskett
Griffiths
Pillage
Marryat
Perryman
Bloomfield
Healy
Jones
Thompson
Trembearth
Daniels
Carey
Meeking
Graham.
Acton won the Second Grade Premiership defeating RMC 6.9-45 to 4.12-36.
W Pillage was third in the League's Best & Fairest in the Second Grade Competition.
Intermediate Grade
Ainslie defeated Eastlake in the Preliminary Final to go through to the Grand Final against Queanbeyan.
Final score: Ainslie 10.11-71 def Eastlake 6.6-42
Goal kickers for Ainslie: James 3, Lawson 2, Keogh 2, Percival 1, Mulligan 1, Hawke 1
Best: James, Browning, Lawson, Keogh
Ainslie played Queanbeyan in the Intermediate Grade Grand Final. For the fourth time in 4 years Queanbeyan defeated Ainslie by less than a goal in the Grand Final of this grade.
Final score: Ainslie 6.11-47 def by Queanbeyan 7.8-50.
Goal kickers for Ainslie: Mulligan 2, James 2, Browning 1, Hawke 1.
Best: James, Browning, Hawke, Keogh, Sloan, Lawson
Junior Grade
The Ainslie Juniors played Eastlake in the Grand Final but were defeated by 1 point.
Final score: Ainslie 9.7-61 def by Eastlake 9.8-62
Goal kickers for Ainslie:  Loftus 3, O'Brien 2, Hincksman 2, Cowie 1, Wilson 1
Best:  Butt, Loftus, Wilson, Cowie
John Loftus won the Best & Fairest in the League's Junior Grade.
Midgets
The Ainslie Midgets won the Premiership by defeating Eastlake in the Grand Final:
Final score: Ainslie 8.7-55 def Eastlake 0.1-1
Goal kickers for Ainslie: Davies 2, Hatcher 2, Howe 2, Martin 1, Robbins 1
Best:  Reid, McDonald, Robins, Howe, Kelly
Club Awards
First Grade
Best & Fairest: Barry McCabe
Club Officials
President: Ralph Lewis
Committee:  Tom Moore, DE Ross, N Cleary, R Woolcott, R Boorn, Bruce Whatman, A Bennett, S Rhodes, B Cain
Secretary: D Kruger
Ass Secretary: J Cleary
Publicity Officer: J Meeking
League Delegates: H Gaylard, S Ray, T Moore
First Grade Coach: Lionel James, Snr
First Grade Captain: Bruce Whatman
First Grade Manager: D Kruger
Second Grade Manager: A Bennett
Juniors: H Loftus
Sub Juniors: D Platt
Midgets: Stan Atkinson