Ainslie appointed Ray Donnellan as the coach for season 1957.
From the 1957 Annual Report: "Ray installed new life into the Club in many ways and was responsible for a return of some of the Ainslie fire and determination which had been so noticeable lacking in the last couple of years."
First Grade started the year slowly but built into a good combination that was a real threat for the finals.
Ainslie were in 4th place going into the last round against 5th placed Acton. However Acton defeated Ainslie causing Ainslie to miss out on Finals action.
First Grade Awards were:
Best & Fairest: Barry Browning
Most Consistent: Alan Ray
Best First Year Player: Bob Hincksman
The Ainslie Second Grade finished the home and away season in 4th place. They defeated Queanbeyan in the First Semi Final but lost the Preliminary Final to Manuka.
Second Grade Awards were:
Best & Fairest: Neville Girvan
Most Consistent: Frank Marryatt and John Webb
The Ainslie committee for 1957 were:
President: Harry Gaylard
Senior Vice President: Stan Ray
Treasurer: Roy Glynn
Hon. Secretary W A Armstrong
Ass. Secretary: J Barry McCabe, W Baker, G Arthur Bennett, Tom Moore, Ray Donnellan, C Moore, H Perryman, Neville Scholes, T Cross, Don Ross
Ainslie Football club Licensed Premises
In August 1957 Ainslie gained a  licence to build the Ainslie Football and Social Club on a site next to Ainslie Oval.
The Club was officially opened early December 1957 by Ralph Lewis.
See the reprints from the Canberra Times for more details.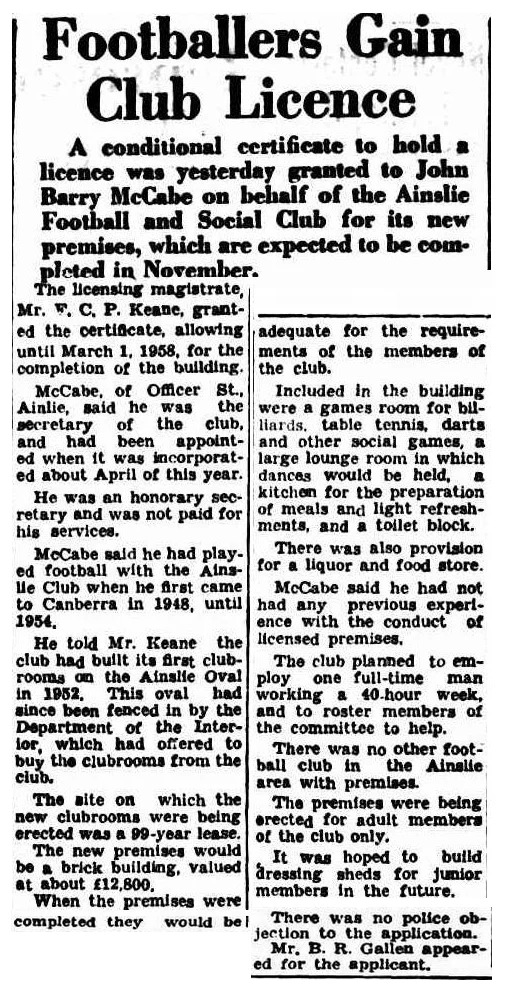 Canberra Times, 23rd August 1957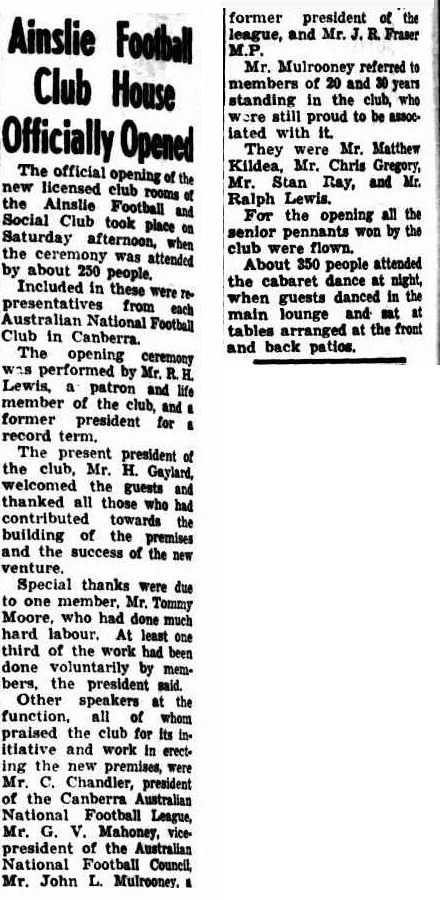 Canberra Times, 9th December 1957