There were six teams in the Canberra League in 1966, Acton, Ainslie, ANU, Eastlake, Manuka and Queanbeyan-Turner.
Ainslie finished the home and away games in second position with 10 wins and 5 losses behind Eastlake with 13 wins.
Ainslie defeated Eastlake in the Second Semi-Final played at Ainslie Oval to go through to the Grand Final.
Final score: Ainslie 15.14-104 def Eastlake 12.13-85
Goal kickers for Ainslie: Neeson 5, Moore 2, Cooper 2, Ryan 2, Searle 2, Drake 1, Rendell 1
Best: Neeson, Searle, Read, Moore, Edwards, Irvine, Laffan, Drake
Eastlake defeated Manuka in the Preliminary Final to set up a rematch with Ainslie. Ainslie couldn't stop Eastlake from winning their fifth straight Premiership which was a record at the time.
Final score: Ainslie 8.17-65 def by Eastlake 13.16-94
Goal kickers for Ainslie: W Drake 2, A Black 2, P Searle 1, N Neeson 1, R Edwards 1, R Moore 1
Best: W Drake, N Neeson, P Martin, W Blomfield, R Edwards, B Read, R Rendell, P Searle
The Grand Final team was:
Backs: A Black, R Moore, R Cooper
Half Backs: Peter Searle, Norm Neeson, Bernie Ryan
Centres: Ralph Rendell, W Blomfield, Brian Read
Half Forwards: P Martin, Alan Bloomfield, G Gardiner
Forwards: Kevin Hassett, Laurie Laffan, J Stankevicious
Rucks: A Irvine, R Edwards, William Drake
Ainslie won the L J Hooker Shield for the Best Performed Club.
Bill Drake the Ainslie Captain/Coach won the Mulrooney Medal with 19 votes from Eastlake's Alex Jesaulenko on 14.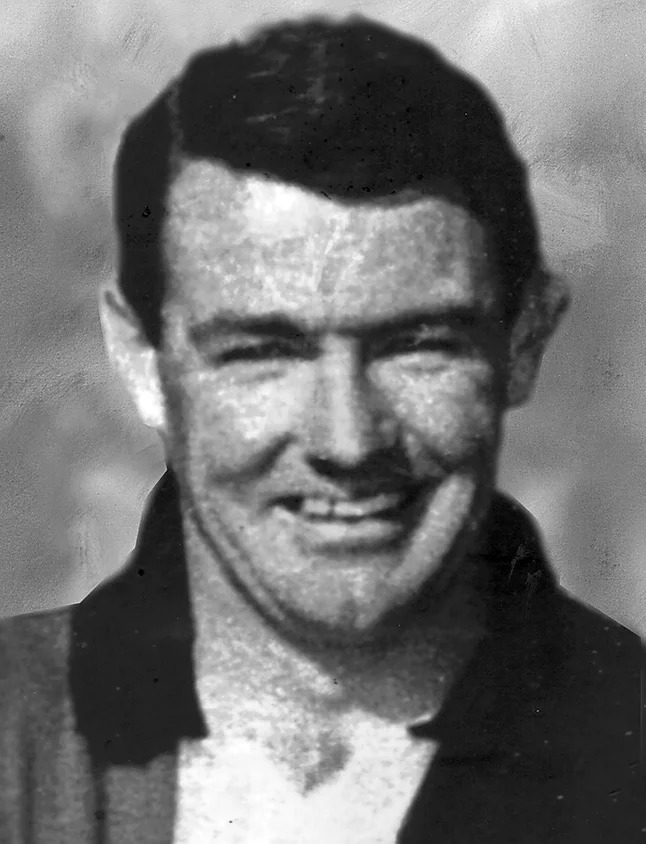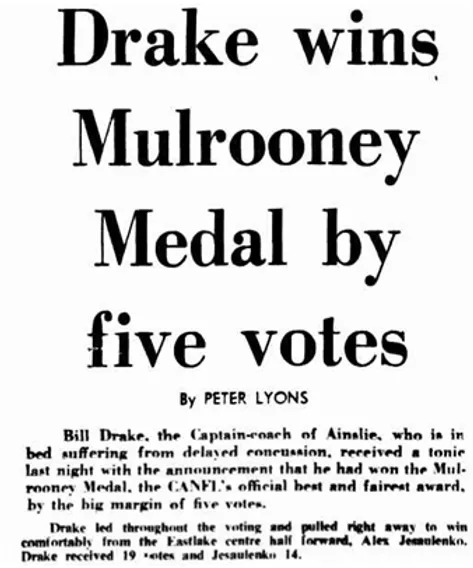 Second Grade
Ainslie Second Grade team finished the home and away games in top position.
Ainslie were beaten by Manuka in the Second Semi-Final.
Final score: Ainslie 5.5-35 def by Eastlake 13.10-88
Third Grade
The Third Grade team was coached by Tom Moore and Captained by Les Durkin.
Won the Premiership.
Intermediates
In the Intermediate Grand Final Ainslie drew with Eastlake to force a replay.
Final score: Ainslie 4.6-30 drew with Eastlake 4.6-30.
Ainslie were able to win the replay and the Premiership.
Graham Read the Intermediate Captain won the League's Best & Fairest for this grade, the George Mahoney Memorial Trophy.
Club Awards
First Grade
Best & Fairest: Bill Drake
Runner Up B&F: G Gardiner
Most Consistent: P Martin
Most Improved: Brian Read
Best Clubman: B Jaffray
Second Grade
Best & Fairest: K Hackett
Runner Up B&F: R Gowing
Most Consistent: W Brown
Most Improved: M Noonan
Third Grade
Best & Fairest: Owen Layzell
Runner Up B&F: K Price
Most Consistent: A Calear
Most Improved: R Denley
Colts
Best & Fairest: B Ryan
Runner Up B&F: R O'Rourke
Most Consistent: V Evans
Most Improved: R Kruger
Intermediates
Best & Fairest: A White
Runner Up B&F: G Read
Most Consistent: P Tormay
Most Improved: L Hogan
Club Officials
President: Harry Gaylard
Senior Vice President: J Rowe
Vice Presidents: C Burmester, P Clynes, M Denley, A Hawke, J Humphreys-Reid, H E Kruger, H McCulloch, B Martin, R Read, A Rendell, J Rowe, M Taafe
Secretary: Alan Ray
Treasurer: Barry Browning
Ass. Treasurer: Keith Heales
Committee: F Cornell, T Cross, P Gilbert, R Hall, K Hassett, A Hawke, B Jaffray, L James, N Neeson, J Nelson