There were six teams in the Canberra League in 1968, Acton, Ainslie, ANU, Eastlake, Manuka and Turner-Queanbeyan.
Ainslie First Grade finished the home and away games in third place with 10 wins and 5 losses behind Eastlake, the top team, and Manuka.
Ainslie played ANU in the First Semi-Final at Ainslie Oval. In a tense game Ainslie led at three quarter time by 11 points but ANU fought back and hit the front with 10 minutes to go. Ainslie regained the lead through a goal to Ralph Rendell but in the last hectic minutes ANU kicked a goal to win by 2 points.
Final score: Ainslie 14.11-95 def by ANU 13.19-97
Goal kickers for Ainslie: Mullin 4, R Rendell 3, Migus 2, Kershaw 2, Cox 1, Drake 1, Read 1
Best: B Ryan, C Smith, Mullin, Rendell, Black
Manuka won the Grand Final over Eastlake by 1 point, 9.16-70 to 10.9-69.
Coach Bill Drake resigned after coaching Ainslie for 3 years.
1968-Ainslie Second Grade Premiership Team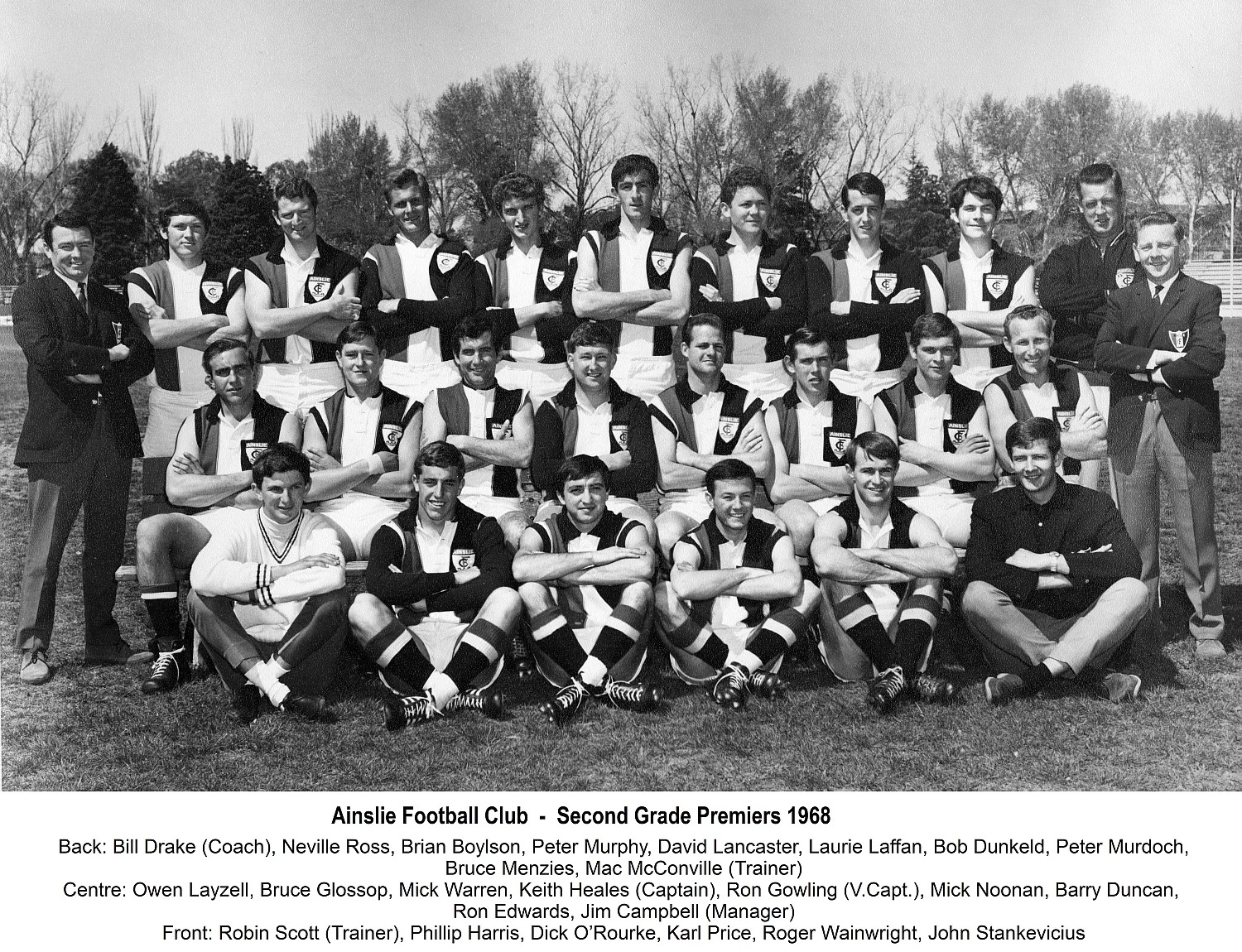 Second Grade
Ainslie Second Grade defeated Eastlake in the Second Semi-Final to move through to the Grand Final.
Final score: Ainslie 10.15-75 def Eastlake 7.7-49
Ainslie defeated Eastlake in the Grand Final to win the Second Grade Premiership.
Final score: Ainslie 5.20-50 def Eastlake 4.8-32
1968-Ainslie Third Grade Premiership Team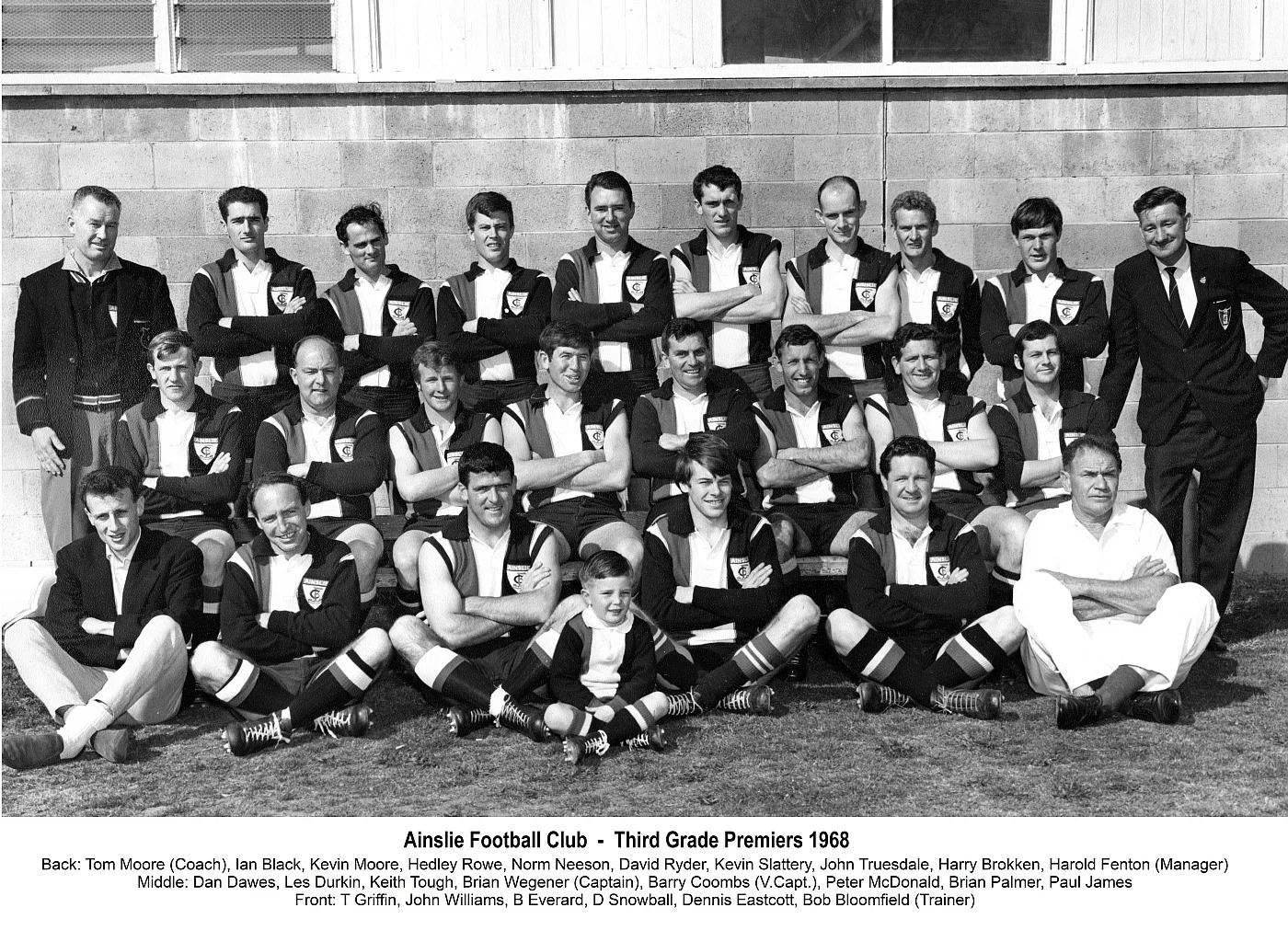 Third Grade
Ainslie Third Grade played in the District Division Competition.
Ainslie defeated Acton in the Second Semi-Final to advance to the District Division Grand Final.
Final score: Ainslie 3.1-19 def Acton 1.7-13
The Ainslie Third Team won the Grand Final by defeating Eastlake.
Final score: Ainslie 9.16-70 def Eastlake 6.14-50
Club Awards
First Grade
Best & Fairest: Barry Kershaw
Runner Up B&F: Kevin Hassett
Most Consistent: A Black
Most Improved: Charles Smith
Second Grade
Best & Fairest: Owen Layzell
Runner Up B&F: K Price
Most Consistent: Keith Heales
Most Improved: P Harris
Third Grade
Best & Fairest: D Ryde
Runner Up B&F: K Tough
Most Consistent: K Slattery
Most Improved: K Moore
Colts Grade
Best & Fairest: A White
Runner Up B&F: T Stolz
Most Consistent: Doug Laird
Most Improved: D Lancaster
Club Officials
President: Harry Gaylard
Senior Vice President: J Rowe
Vice Presidents: F Cornell, N Neeson, B Palmer
Treasurer: Barry Browning
Secretary: Alan Ray
Ass. Secretary: J Spencer
Committee: J Bravo, P Clynes, K Hassett, K Heales, L James, B Kershaw, J McConville, P Murdoch, B Norberry, A Rendell, W Saunders, R Venables
Patrons: Ralph Lewis, R W Chew