The ACT Australian Football League consisted of the following seven teams: Ainslie, Belconnen, Eastlake, Manuka, Queanbeyan, Sutherland and West Canberra.
Ainslie First Grade went through the season undefeated finishing the home and away in top position.
They played Eastlake in the Second Semi Final and won by 47 points.
Finals score: Ainslie 20.19-139 def Eastlake 13.14-92.
Goal kickers for Ainslie: Neale 8, Nichols 3, McCormack 3, Bellchambers 3, Davey 1, Miller 1, Gerrans 1
Best: Heystraten, Nolan, Bellchambers, Nichols, Hannam
Ainslie were in their fifth consecutive Grand Final under Coach Kevin Neale. The game was played at Football Park, Phillip and Ainslie defeated Eastlake by 76 points to go through the season undefeated and win the Club's fourth Championship and 12th Premiership.
Final score: Ainslie 22.19-151 def Eastlake 11.9-75.
Goal kickers for Ainslie: Nichols 6, Neale 5, McCormack 3, Senjov 3, Stone 2, Neeson 1, Miller 1, Bellchambers 1
Best: Nichols, Gerrans, Hannam, Stone, McCormack, Miller
The Team for the Grand Final was:
Backs: Tony Ielasi, Alan Smith, Gordon Marshall
Half Backs: David Moon, Brett Hannam, Chris Smith
Centres: Robert Birch, Ken Stone, Phil Gerrans
Half Forwards: Peter Neeson, Greg Nichols, David Bellchambers
Forwards: Stephen Nolan, Kevin Neale, Mick Senjov
Rucks: Hans Heystraten, John Miller, Jack McCormack
Interchange: Ron Davey, Terry Mooney
Captain/Coach: Kevin Neale
Manager: Les Smith
Ainslie became the first club to win the Grand Slam by winning Premierships in First Grade, Second Grade and Under 19s.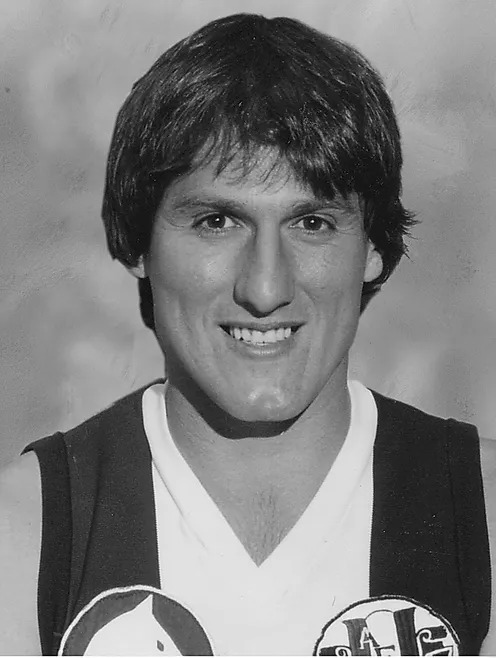 Greg Nichols
Ainslie Centre-half Forward Greg Nichols won the 1982 Mulrooney Medal polling 39 votes and winning by 2.
Nichols was recruited from Turvey Park in Wagga.
Kevin Neale was the leading goal kicker for the League with 125 goals. Greg Nichols kicked 93 goals.
Ainslie won the Chandler Award as the best performed Club.
1982-Ainslie Second Grade Premiership Team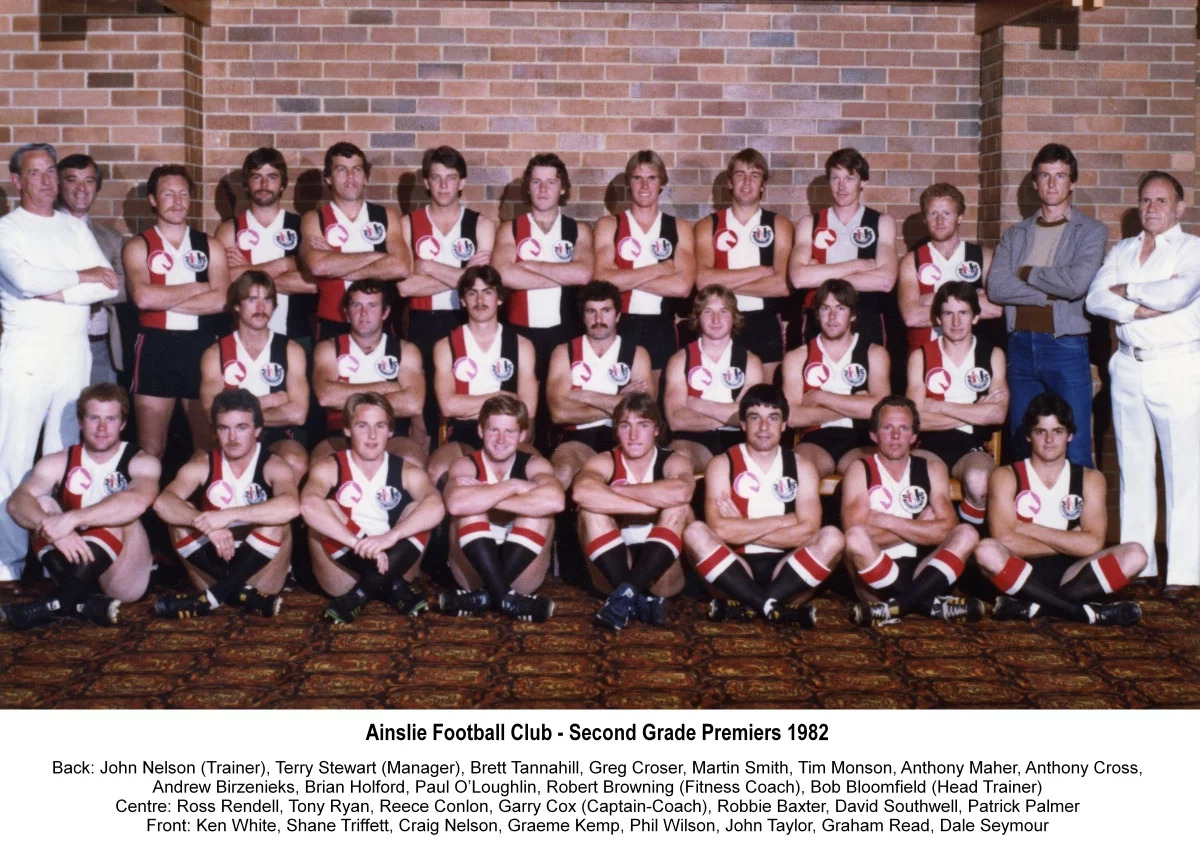 Ainslie defeated Eastlake in the Second Semi-Final by 23 points to go through to the Grand Final.
Final score: Ainslie 15.18-108 def Eastlake 13.7-85
This was Ainslie's eighth consecutive Grand Final and third in a row against Eastlake.
Ainslie defeated Eastlake in the Grand Final to win their 12th Second Grade Premiership.
Final score: Ainslie 18.13-121 def Eastlake 6.7-43
Andy Birzenieks was runner-up in the Second Grade League Best & Fairest, the J McNamara Award.
Captain/Coach: Garry Cox
Manager: Terry Stewart
1982-Ainslie Under 19 Premiership Team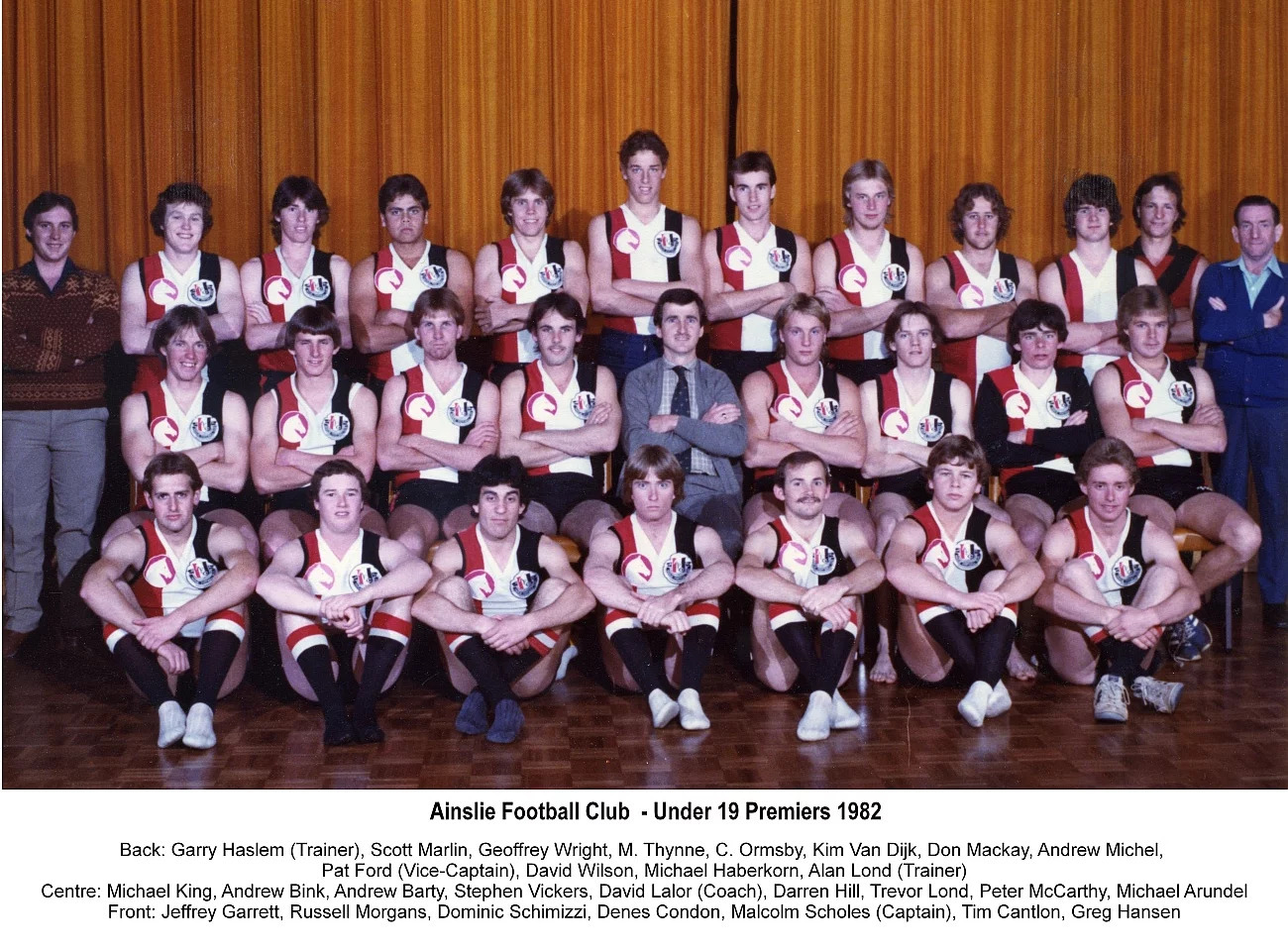 Ainslie Under 19s finished the home and away games in second position behind Manuka.
In the Second Semi Final Ainslie lost to Manuka by 44 points.
Final score: Ainslie 9.8-62 def by Manuka 15.16-106.
Best for Ainslie were: Hill, Haberkorn, Lond, McCarthy, Michel.
Ainslie played Sutherland in the Preliminary Final and had a big win by 133 points to go through to the Grand Final.
Final score: Ainslie 24.23-167 def Sutherland 4.10-34
Ainslie were able to defeat Manuka in the Grand Final by 45 points.
Final score: Ainslie 20.8-128 def Manuka 12.11-83
Malcolm Scholes was the runner-up in the ACTAFL under 19 Best & Fairest Award
Coach: David Lalor
Manager: John Neiberding
Captain: Malcolm Scholes
Monaro Grade
The Monaro team was forced to withdraw from the competition due to lack of player numbers.
Under 17
The Under 17 team finished on top of the ladder at the end of the home and away games.
They played St Edmonds in the Second Semi-Final but were defeated.
In the Preliminary Final they played Belconnen and in a tight game won by 2 points.
Final score: Ainslie 6.10-46 def Belconnen 5.14-44
They met St Edmonds in the Grand Final but went down by 2 points.
Final score: Ainslie 10.5-65 def by St Edmunds 10.7-67
Coach: Ralph Rendell
Manager: Brett Muir
Club Awards
First Grade
Best & Fairest: Greg Nichols
Runner-up B&F: Hans Heystraten
Most Consistent: Stephen Nolan
Most Improved: Robert Birch
Richard Fleming Memorial Award: Dale Seymour
Baitz Liquor Trophy for Best First Year Player: Phillip Wilson
Second Grade
Best & Fairest: Andy Birzenieks
Runner-up B&F: Robbie Baxter
Most Consistent: Martin Smith
Most Improved: Graeme Kemp
Under 19
Best & Fairest: Malcolm Scholes
Runner-up B&F: Andrew Michel
Most Consistent: Darren Hill
Most Improved: Geoff Wright
Under 17
Best & Fairest: P Edwards
Runner-up B&F: R Vickers
Most Consistent: W Rogers
Most Improved: L King
Best Clubman: Les Smith
Jaws Award: Mick Senjov
Club Officials
President: Bruce Glossop
Senior Vice President: Garry Marshall
Vice Presidents: John Bravo, Errol Delaney, Greg Ryan
Hon Secretary: Arthur G Bennett
Ass Secretary: Ian Mulholland
Treasurer: Karl Blundell
Committee: A Don Andrews, J Brown, Jack McGrath, Brett Muir, Alan Ray, Roy Hancock, Gary Harwood, Larry Rawson, Glen Rebecca, Kevin Slattery, Les Smith, Russell Voysey
Patrons: Ralph Lewis, Harry Gaylard