The 1985 ACTAFL Competition consisted of seven teams, Ainslie, Belconnen, Eastlake, Manuka Weston, Queanbeyan, Tuggeranong and West Canberra.
Ainslie Finished the home and away games in top position ahead of Queanbeyan on percentage both with 14 wins and 4 losses.
Ainslie played Queanbeyan in the Second Semi-Final and won by 3 points to go through to the Grand Final.
Final score: Ainslie 11.18-84 def Queanbeyan 10.21-81
Goal Kickers for Ainslie: G Miller 4, A Tutt 3, Newman 2, J Miller 1, A Bishop 1
Best: Stewart, Tutt, G Miller, Stone, Newman, Bishop
Ainslie played Queanbeyan again in the Grand Final at Football Park before an estimated crowd of 8,000. After Ainslie led by 11 points at half time Queanbeyan dominated the game setting up a 29 point lead at three quarter time and running out winners by 59 points. In the second half Queanbeyan kicked 16 goals to Ainslie's 6.
Final score: Ainslie 14.13-97 def by Queanbeyan 23.18-156
Goal kickers for Ainslie: G Miller 7, Oborne 2, McCormick 2, J Miller 1, Newman 1, Tutt 1
Best: Hamilton, Bishop, G Miller, Stewart, Hensel, Baxter, J Miller
The Ainslie First Grade Grand Final Team was:
Backs: T Ielasi, A Smith, K Van Dijk
Half Backs: P Hamilton, G O'Brien, W Rogers
Centres: A Bishop, K Stone, T Fisher
Half Forwards: N Hensel, B Newman, A Tutt
Forwards: R Oborne, G Miller, J McCormick
Rucks: G Stewart, J Miller, R Baxter
Interchange from: P Gerrans, R Hincksman, C Smith, S Smith, A Birzenieks
Captain/Coach: Rod Oborne
1985-Ainslie Second Grade Team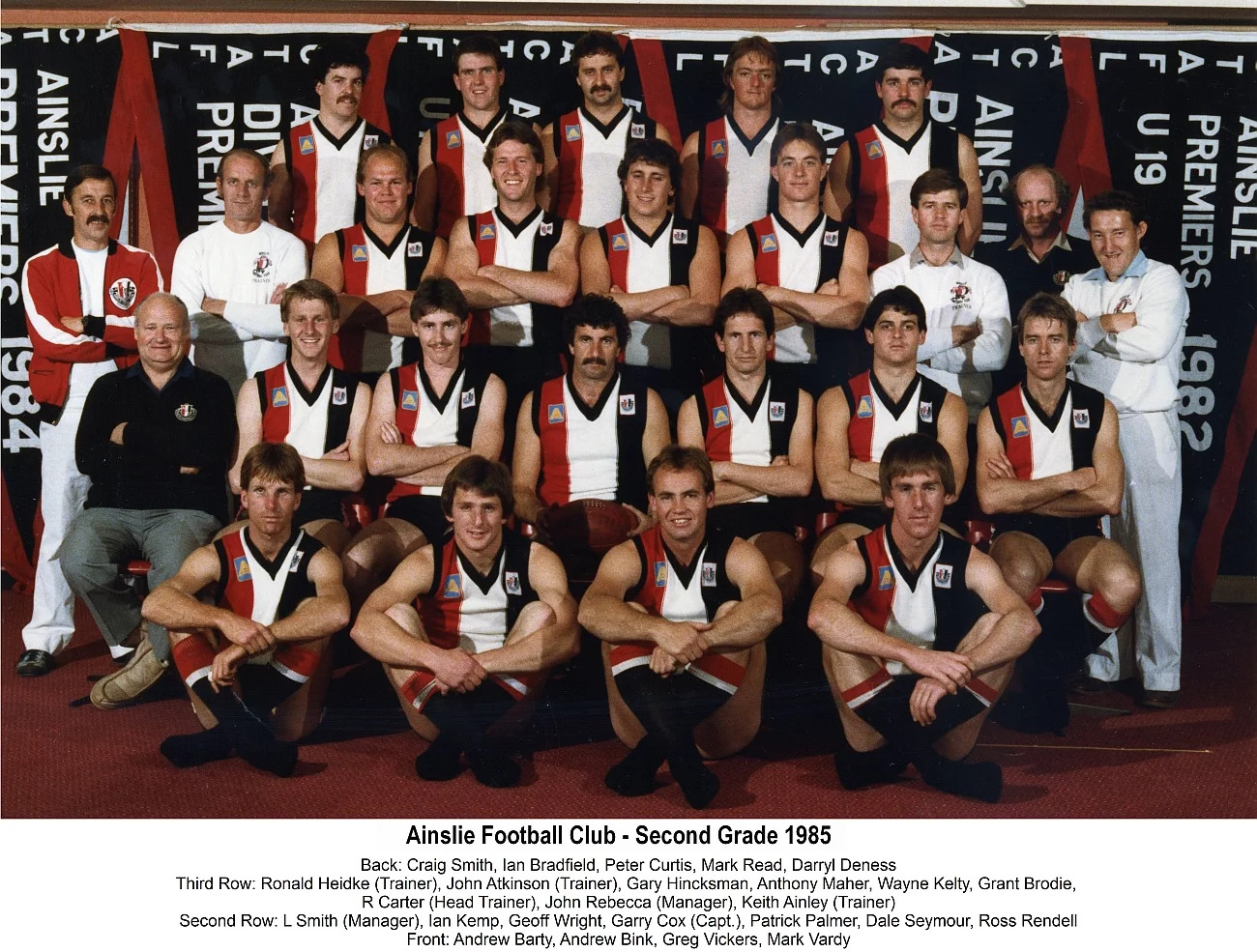 Ainslie second Grade finished the home and away games in third position.
Ainslie played Eastlake in the First Semi-Final and in a close struggle Ainslie won by 1 point.
Final score: Ainslie 10.13-73 def Eastlake 10.12-72
Goal kickers for Ainslie: Walford 3, Seymour 1, Cox 1, Kelty 1, Bink 1, Curtis 1, Bradfield 1, Croser 1
Best: Brodie, Hincksman, Cox, Vickers, Scholes
Ainslie were defeated by Manuka-Weston in the Preliminary Final by 10 points to finish third. Ainslie had a 5 goal lead at the last change but Manuka-Weston stormed home kicking 7 goals to 1.
Final score: Ainslie 13.10-88 def by Manuka-Weston 14.14-98
Goal kickers for Ainslie: Croser 3, Seymour 3, Scholes 2, Cox 1, Kelty 1, Bink 1, C Smith 1, Corkill 1
Best: Maher, Croser, G Hincksman, Wright, Seymour
The Ainslie Second Grade team for the Preliminary Final was:
Wright, Vickers, Hincksman, Rendell, Walford, Curtis, Bradfield, Deness, Palmer, Smith, Seymour, Scholes, Cox, Croser, Kelly, Maher, Bink, Corkill.  Interchange: Vardy, Barty. Emergencies: Porta, Brown.
Captain/Coach: Garry Cox
Managers: Les Smith, John Rebecca
1985-Ainslie Under 19 Team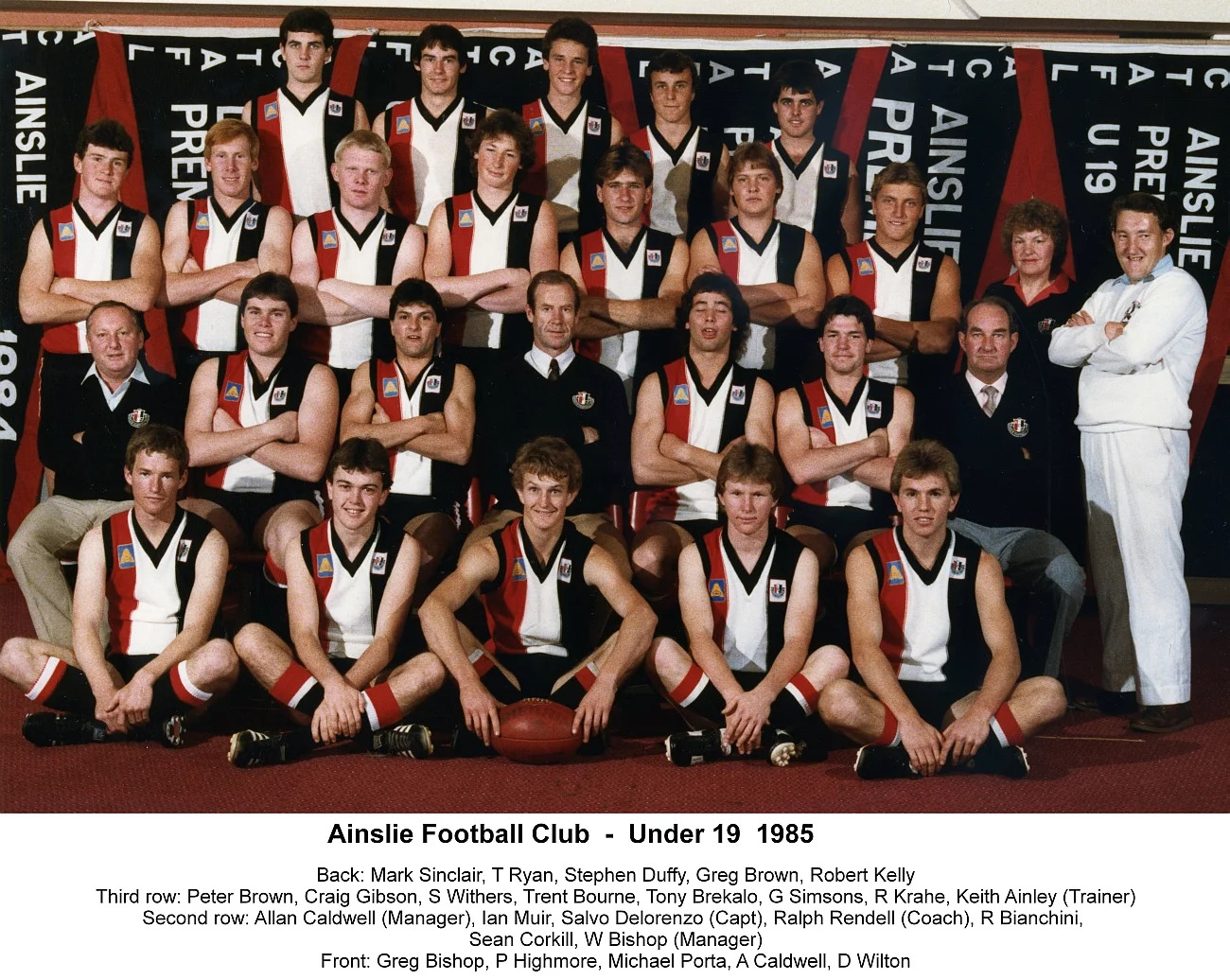 1985-Ainslie Monaro Team