he 1989 ACTAFL Competition consisted of six teams, Ainslie, Belconnen, Eastlake, Manuka Weston, Queanbeyan and Tuggeranong.
Coach Russel Durnan resigned from the position one week before the competition was due to begin. Ainslie appointed Brett Hannam as Captain/Coach with Maurice Wingate his assistant one day before the opening night game against Queanbeyan. The team overcame the difficulties to win the game.
At the completion of the home and away games Ainslie were in second place behind Queanbeyan with 13 wins and 2 losses.
Ainslie First Grade were defeated in the Second Semi-Final by Queanbeyan. The Lead changed 10 times during the game and Ainslie held a 22 point lead 10 minutes into the last quarter but with the wind behind them Queanbeyan stormed home.
Final score: Ainslie 13.9-87 def by Queanbeyan 14.21-105
Goal kickers for Ainslie: Killer 4, Trebilcoock 3, Gills 3, Wingate 2, McTaggart 1
Best: Muir, Wingate, Hannam, Gills, Rogers, Ireland
Ainslie were defeated in the Preliminary Final by Manuka-Weston to finish in third place. Manuka-Weston dominated the first quarter setting up a 3 goal lead which Ainslie couldn't peg back. It was their first win over Ainslie for the season.
Final score: Ainslie 7.10-52 def by Manuka-Weston 11.13-79
Goal kickers for Ainslie: Gills 2, Crisp 1, Zochling 1, Wingate 1, Hannam 1, Killer 1
Best: Hannam, Smith, Ireland, Richardson, Muir, Gills
The Ainslie First Grade Team for the Preliminary Final was:
Backs: Shane Stockwell. Peter Brown, Ian Muir
Half Backs: Wayne Rogers, Brett Hannam, Mathew Conway
Centres: Robert McTaggart, Maurice Wingate, Shaun Wornes
Half Forwards: Craig Smith, Shane Trebilcock, Peter Ireland
Forwards: Andrew Bishop, Mark Killer, Matthew Crisp
Rucks: Richardson, Gerard Zochling, Dean Gills
Interchange: Finkelde, Van Dijk
Emergencies: Dale Saymour, Greg Bishop
Queanbeyan defeated Manuka-Weston in the Grand Final, 12.15-87 to 9.13-67, to win the 1989 Premiership.
Dean Gills was the Club's leading goal kicker in First Grade with 39 goals.
Ainslie players who represented the ACT against Tasmania were Michael Richardson, Gerard Zochling, Craig Smith, Mark Killer, Dean Gills, Peter Ireland and Matthew Crisp.
Coach: Brett Hannam
Manager: John Rebecca
Second Grade
The Second Grade finished the home and away games as Minor Premiers and were undefeated with 15 wins.
Ainslie Second Grade defeated Queanbeyan in the Second Semi-Final to remain undefeated and proceed through to the Grand Final.
Final score: Ainslie 13.11-89 def Queanbeyan 10.9-69
Goal kickers for Ainslie: Kelty 6, Ellis 2, Graney 2, Finkelde 2, Cusack 1
Best: Graney, Telford, Ellis, Bishop, Palmer
The Ainslie Second Grade team suffered their first loss of the season in the Grand Final as Queanbeyan reversed the result of the Second Semi-Final. Ainslie got within 8 points during the last quarter but Queanbeyan steadied to win by 39 points.
Final score: Ainslie 9.11-65 def by Queanbeyan 15.14-104
Goal kickers for Ainslie: Kelty 5, Scholes 1, Palmer 1, Van Dijk 1, Collins 1
Best: Brady, Conway, Ellis, Scholes, Michel, Connick
Wayne Kelty was the League's leading goal kicker in Second Grade with 79 goals.
Coach: Malcolm Scholes
Manager: R Turner
1989-Ainslie Under 19 Team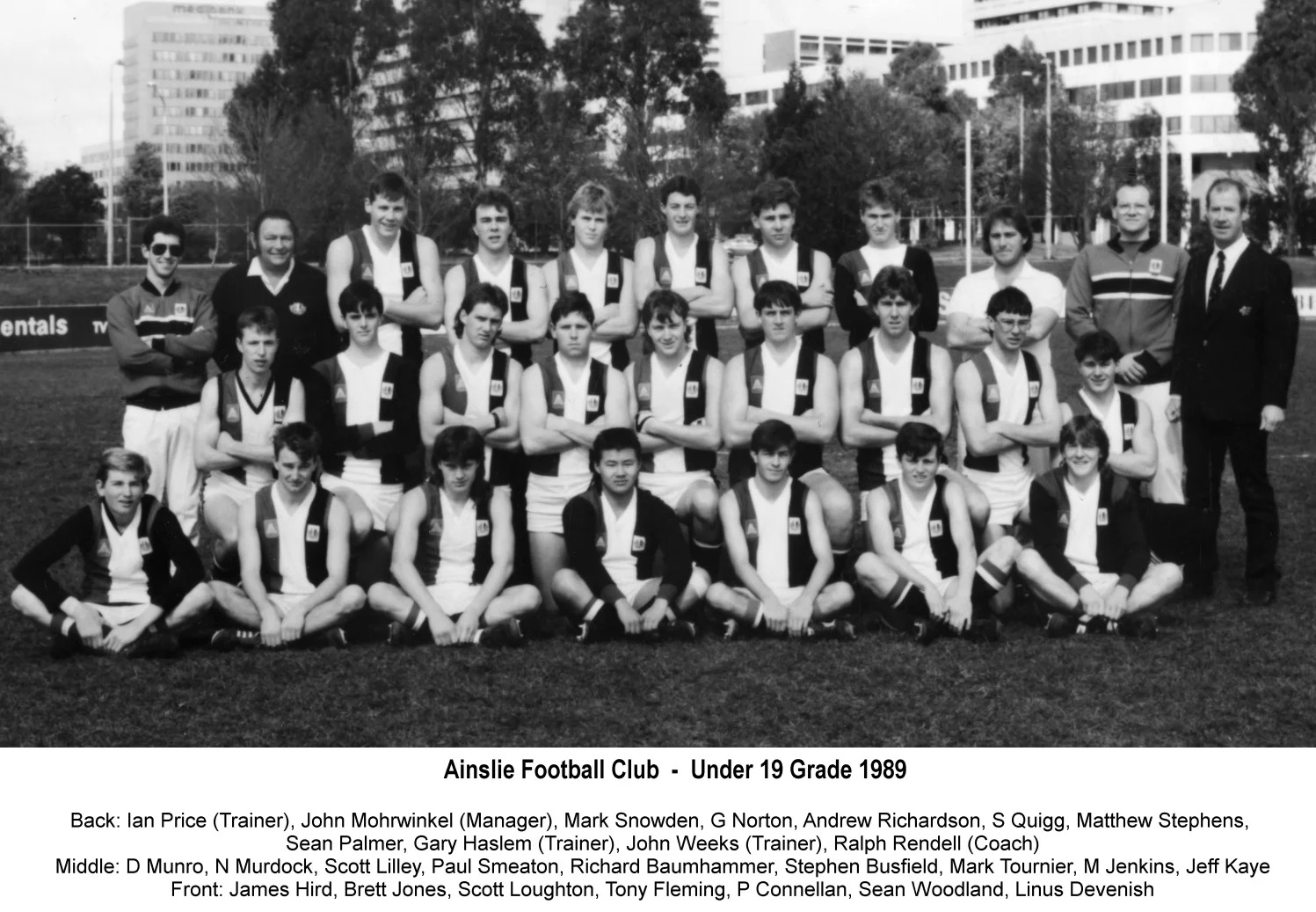 The U19s had a difficult year with lack of numbers and finished the home and away games on the bottom of the table with only 1 win for the season.
Coach: Ralph Rendell
Manager: John Mohrwinkel
Monaro
Due to lack of player numbers the Club was unable to enter a team in the Monaro competition.
Club Awards
First Grade
Best & Fairest: Craig Smith
Runner Up B&F: Michael Richardson
Most Consistent: Maurice Wingate
Most Improved: Shane Stockwell
Second Grade
Best & Fairest: Malcolm Scholes
Runner Up B&F: Craig Ellis
Most Consistent: Michael Connick
Most Improved: Tim Graney
Coach's Award: Grant Brady
Under 19
Best & Fairest: Paul Smeaton
Runner Up B&F: Sean Palmer
Most Consistent: Peter Short
Most Improved: Scott Lilley
Coach's Award: Brett Jones
Under 17
Best & Fairest: Saul Dollimore
Runner Up B&F: John Read
Most Consistent: Shane King
Most Improved: Tim Brennan
Coach's/Manager's Award: Shane Stevens
Most Prominent Clubman: Garry Cox
Jaws Award: Trevor Lond
Richard Fleming Memorial Award: Scott Gibson
Baitz Liquor Award for Best First Year Player: Shane Trebilcock
Club Officials
President: David Lalor
Senior Vice Presidents: Don Andrews, Bruce Glossop
Vice Presidents: Reg Smith, Greg Croser, Bill Harvey
Secretary: Noel McCormack
Ass. Secretary: Andrew McGrath
Treasurer: Karl Blundell
Committee: Garry Cox, Des Eddowes, Brian Palmer, Kel Duncan, John Rebecca, Ian Kirkpatrick, Ross Hincksman, Kevin Grace, Don Cross
Patron: Stan Ray