Ainslie appointed ex-AFL Richmond and Collingwood player David Cloke as Coach for a three year term.
The ACTAFL Competition had six teams, Ainslie, Belconnen, Queanbeyan, Southern District, Tuggeranong and Weston Creek.
Ainslie First Grade finished on top of the table after the home and away games with 13 wins and 2 losses.
They played Queanbeyan in the Second Semi-Final and won by 9 points.
Final score: Ainslie 13.7-85 def Queanbeyan 9.22-76
Goal kickers for Ainslie: Mohrwinkel 3, Zochlin 2, Abud 2, McCallum 2, Richardson 1, Fleming 1, A Bishop 1, Whelan 1
Best: Cloke, Gibson, Mohrwinkel, Zochling, G Bishop, Conway, Muir
Ainslie played Queanbeyan again in the Grand Final at Football Park, Phillip. In a hard, physical game Ainslie led by 33 points at three quarter time and held on to defeat Queanbeyan by 10 points.
Final score: Ainslie 9.18-72 def Queanbeyan 7.20-62
Goal kickers for Ainslie: Zochling 2, Fleming 1, Mohrwinkel 1, Rogers 1, Ireland 1, Heard 1, Annand 1, McCallum 1
Best: Muir, Gibson, Zochling, Ireland, Conway, McCallum, Cloke, Heard, Kent.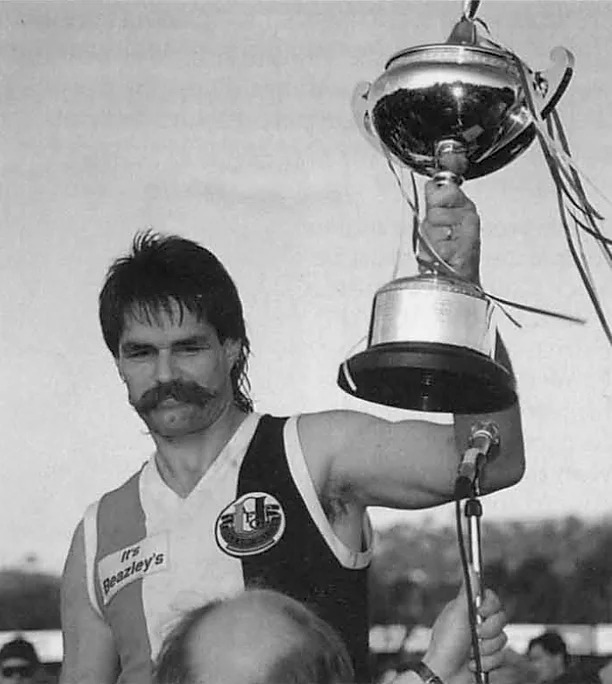 Captain/Coach David Cloke hold up the Premiership Cup
The Grand Final Team was:
Backs: Greg Bishop, Ian Muir, Stephen Kent
Half backs: Scott Gibson, Matt Conway, Shane Griffin
Centres: David McCallum, Shane Heard, Shane Art
Half forwards: Gerard Zochling, Michael Richardson, David Abud
Forwards, Mark Sinclair, Chris Fleming, Stuart Annand
Rucks: David Cloke, Jack Ireland, Jeff Mohrwinkel
Interchange: Andrew Bishop, Wayne Rogers Emergencies: Paul Whelan, Todd Pulford, Robert Kelly
David McCallum was awarded the Alex Jesaulenko Medal for Best on the Ground in the Grand Final.
Chris Fleming was the Club's leading goalkicker with 79 goals, followed by Gerard Zochling with 45.
Gerard Zochling was Runner-up in the League's First Grade Best & Fairest Award, the Mulrooney Medal.
Robbie Baxter played his 150th First Grade game in 1992. Ian Muir and Michael Richardson played their 100th game.
Ainslie won the C W Chandler Club Championship Trophy for the 16th time in 29 years.
1992-Ainslie Second Grade Premiership Team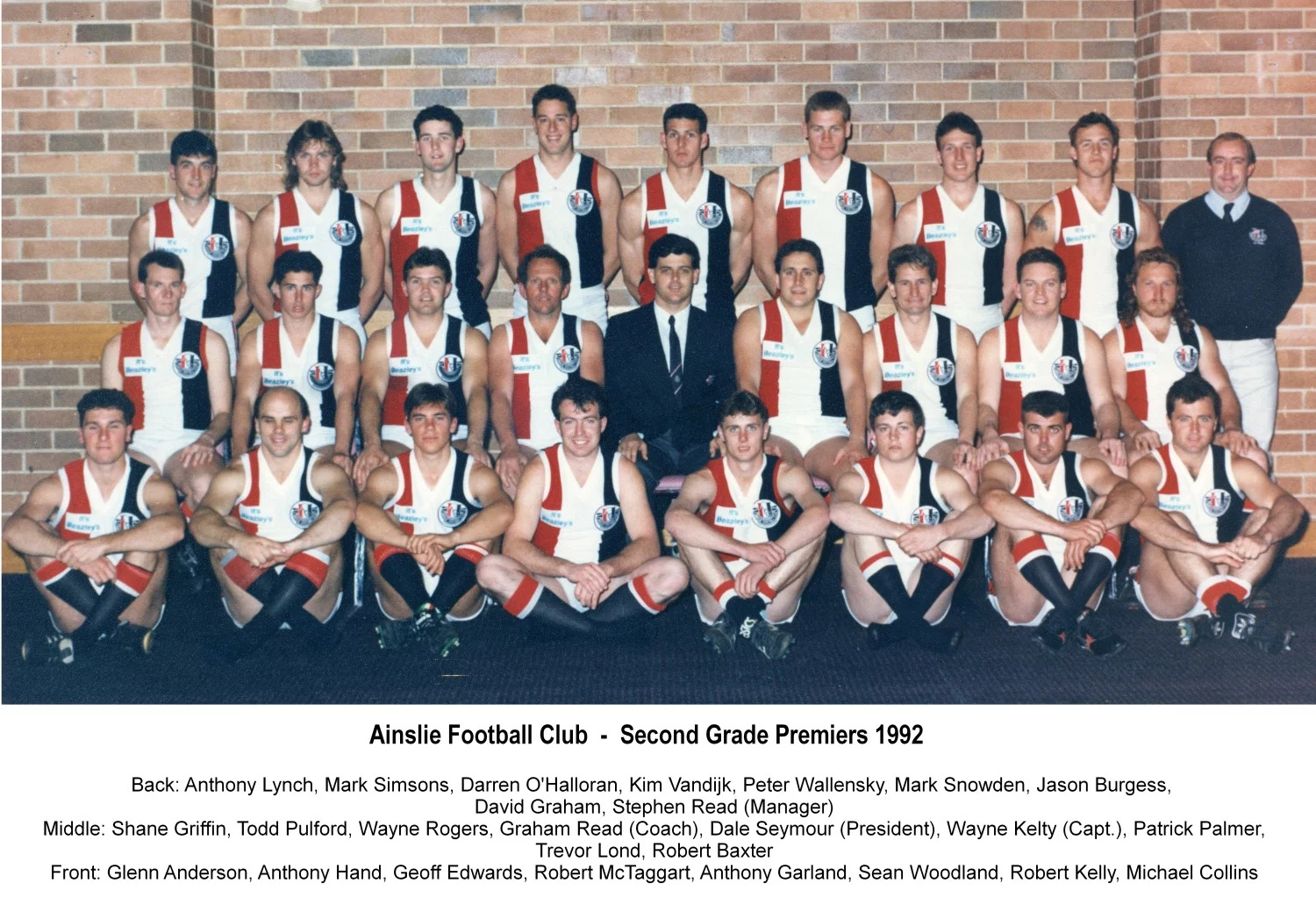 Ainslie defeated Queanbeyan in the Second Grade Second Semi-Final by 34 points.
Final score: Ainslie 15.15-105 def Queanbeyan 10.11-71
Goal kickers for Ainslie: Kelly 4, Kelty 4, Rogers 3, Collins 2, Anderson 1, Wallensky 1
Best: Rendell, Rogers, Kelly, Van Dijk, McTaggart
Ainslie played Queanbeyan again in the Second Grade Grand Final and had a big win by 87 points.
Final score: Ainslie 25.15-165 def Queanbeyan 12.6-78
Goal kickers for Ainslie: Kelty 6, Garland 5, Snowden 4, Collins 3, McTaggart 2, Kelly 2, Baxter 2, Edwards 1
Best: Snowden, Rendell, Garland, Pulford, Baxter, Hand, Graham
Michael Collins won the League's Best & Fairest in the Second Grade, the J McNamara Trophy, in a tie with Queanbeyan's Geoff Deeble.
Wayne Kelty was the League's and the Club's leading Second Grade goal kicker with 78 goals.
Patrick Palmer played his 200th Second Grade game during the season. Trevor Lond played his 100th Second Grade game.
1992-Ainslie Under 19 Team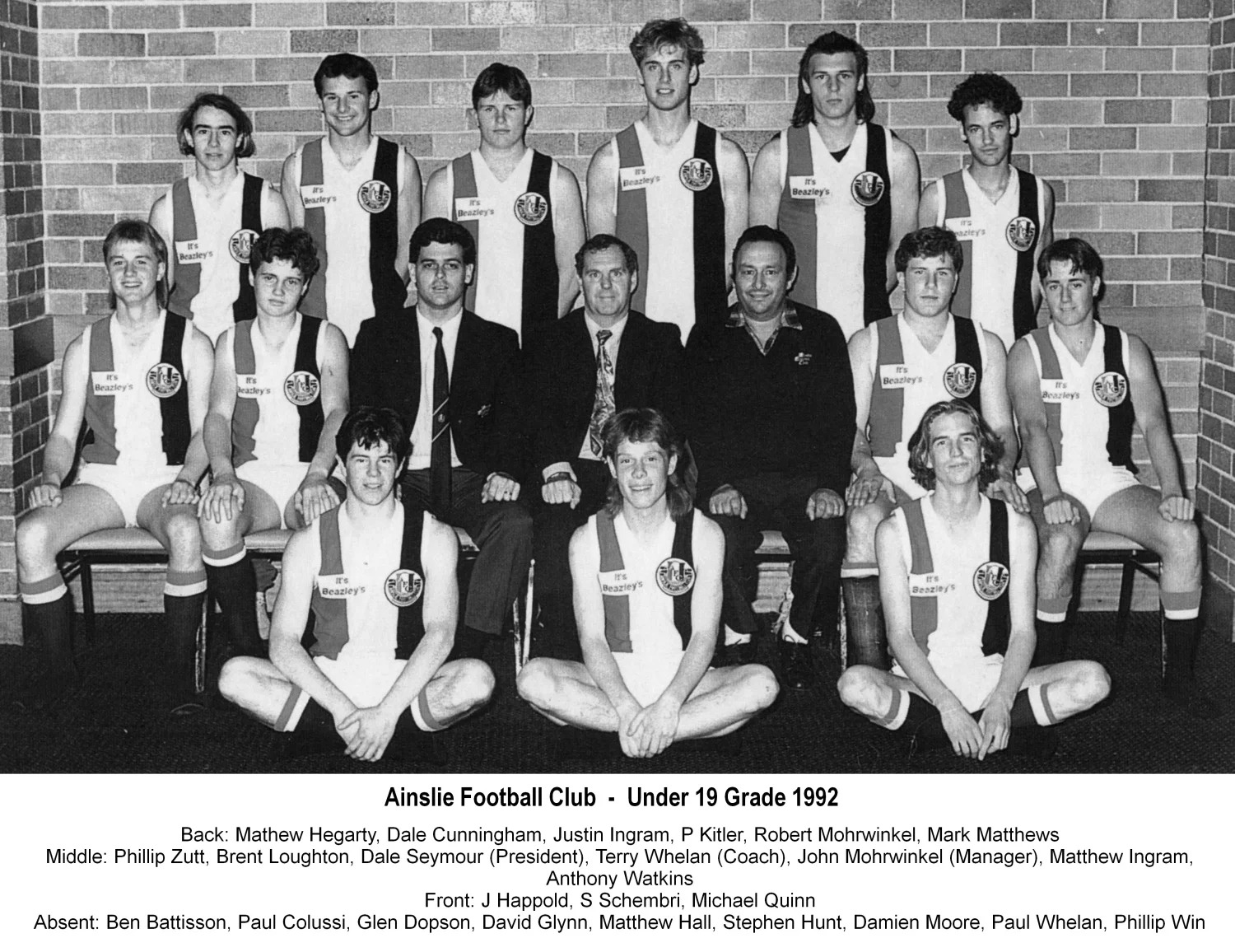 The Under 19 team experienced a shortage of players in 1992 and had a tough season finishing on the bottom of the ladder after the home and away games.
Justin Ingram, Matthew Ingram, Ben Battisson and Paul Whelan represented the ACT at the U17 Teal Cup and the School boys Competition. Paul Whelan was selected in the All-Australian team at the Teal Cup. Ben Battisson was selected in the All-Australian Schoolboys team.
Coach: Terry Whelan
Manager: John Mohrwinkel
1992 Ainslie Monaro Team
Ainslie finished outside the top four after the home and away games winning only 2 games.
Coach: Peter Telford
Manager: Maryanne Mann
Club Awards
First Grade
Best & Fairest: David Cloke
Runner-up B&F: Gerard Zochling
Most Consistent: Jeff Mohrwinkel
Most Valuable Player: Matt Conway
Best Player in Finals: Stephen Kent
Richard Fleming Memorial Award: Shane Griffin
Second Grade
Best & Fairest: Michael Collins
Runner-up B&F: Stephen Phipps
Most Consistent: Wayne Rogers, Anthony Garland
Most Improved: Gath Berry
Best Player in Finals: Stuart Rendell
Under 19
Best & Fairest: Justin Ingram
Runner-up B&F: Dale Cunningham
Most Consistent: Matthew Ingram
Most Improved: Damien Moore
Ted Dhu Most Promising U19 Player: Danny Grimsley
Monaro
Best & Fairest: Paul Stephens
Runner-up B&F: Matt Guthrie
Most Consistent: Joe Mann
Most Improved: John Streatfield
Most Prominent Clubman: Joe Cortese
Jaws Award: Fred Lehmann
Club Officials
President:  Dale Seymour
Senior Vice President: Bruce Glossop
Vice Presidents: Garry Cox, Andrew McGrath
Secretary: Malcolm Scholes
Ass. Secretary: Lee Phillips
Committee: John Rebecca, Con Moraitis, Joe Cortese, Trevor Lond, Bill Harvey, Terry Pulford, Jerry O'Halloran, James Horniblow