There were 6 teams in the Canberra League in 1995, Ainslie, Belconnen, Queanbeyan, Southern Districts, Tuggeranong and Weston Creek.
Peter Banfield was appointed Coach of the First Grade team for his second year following on from his Premiership in his first year with the Club.
Ainslie played in the Ovens and Murray Preseason carnival and also travelled to Tasmania to play Clarence the reining Premiers in the Tasmanian Football League. Ainslie defeated Clarence in this practice game, 19.11-125 to 9.5-59.
Ainslie won 14 and lost only one of the home and away games to finish as Minor Premiers.
In the Second Semi-Final against Queanbeyan, Ainslie played their worst game of the year losing by 78 points.
Final score: Ainslie 5.15-45 def by Queanbeyan 19.9-123
Goal kickers for Ainslie: Baxter 2, Kent 1, O'Brien 1, Welsby 1
Best: Baxter, Miller, Kent, Zochling, Richardson, Conway
In the Preliminary Final they were able to defeat Weston Creek by 9 points to set up a re-match with Queanbeyan in the Grand Final.
Final score: Ainslie 10.12-72 def Weston Creek 9.9-63
Goal kickers for Ainslie: Welsby 3, Langan 2, Killer 1. McCallum 1, Miller 1, O'Brien 1, Sinclair 1
Best: Miller, Bishop, Griffin, DiPetta, Baxter, Richardson
The Grand Final between Ainslie and Queanbeyan was played at Football Park on Sunday 3 September 1995.
Ainslie were able to defeat Queanbeyan by 17 points to win their fourth successive Premiership.
Final score: Ainslie 17.10-112 def Queanbeyan 14.11-95
Goal kickers: K Welsby 5, G Zochling 3, P Ireland 3, S O'Brien 2, M Sinclair 2, A Dipetta 1, R Langan 1,
Best: G Zochling, R Miller, A Dipetta, K Welsby, J Dickie
The Ainslie 1995 First Grade Grand Final Team
Backs: Shane Griffin, John Dickie, Ian Muir
Half Backs: Stephen Kent, Robbie Miller, Matt Conway
Centres: Steven O'Brien, Peter Banfield, Todd Pulford
Half Forwards: Gerard Zochling, Mark Sinclair, Andrew Bishop
Forwards: Peter Ireland, Kym Welsby, Reece Langan
Ruck: Michael Richardson, Robbie Baxter, Aldo Dipetta
Interchange: Mark Schmidt, Mark Killer, Paul Gambale
Other players that played First Grade during the year were: Ben Battisson, Derek Bubner, Jason Burgess, Paul Colussi, Scott Gibson, Nigel Harrison, David McCallum, Luke McCormick, Damien Munday, Peter Telford.
First Grade players who Represented the ACTAFL against Northern Territory were: P Banfield, A Dipetta, R Langan, G Zochling, S O'Brien, J Dickie, M Richardson, K Welsby and Matt Conway. Players who played in the Representative game against Glenelg were: P Banfield, A Dipetta, R Langan, R Miller, G Zochling, J Dickie, M Richardson, K Welsby and Andrew Bishop.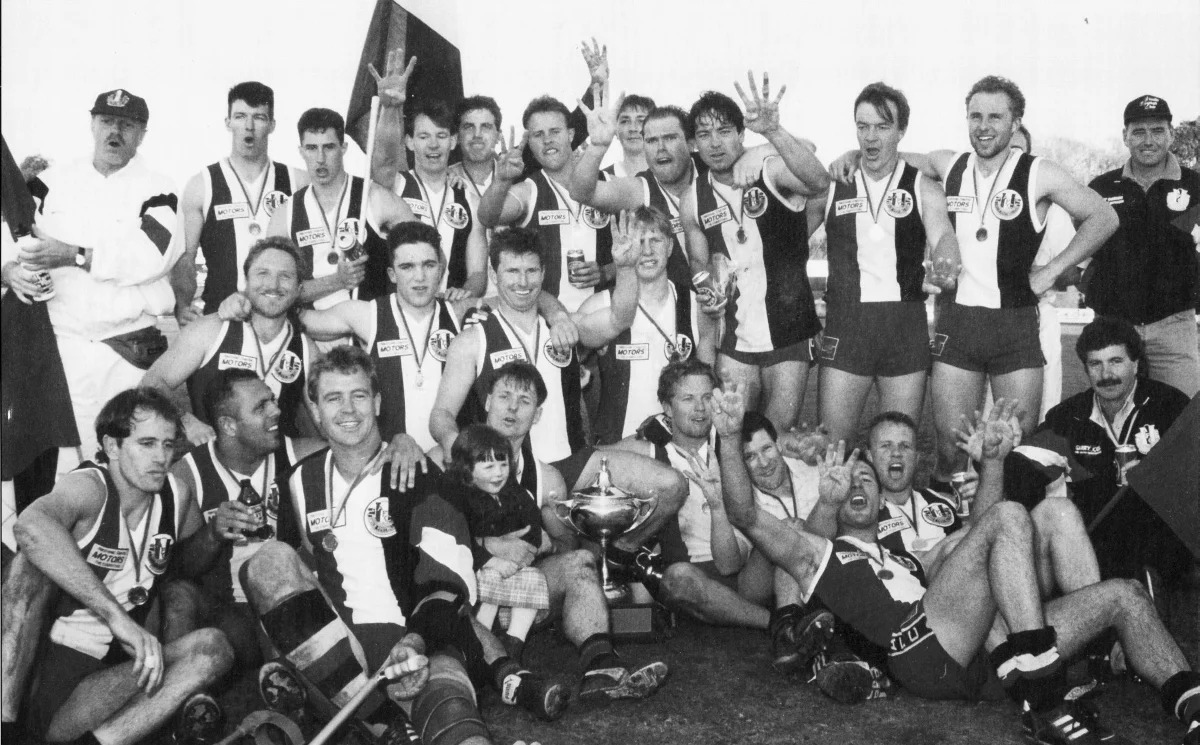 The Ainslie 1995 Premiers celebrate their victory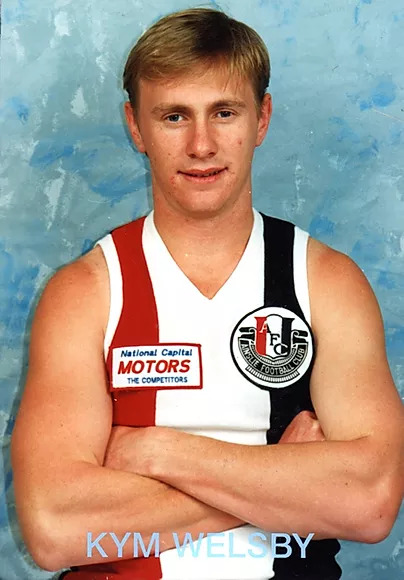 Kym Welsby led the goal kicking with 78 goals.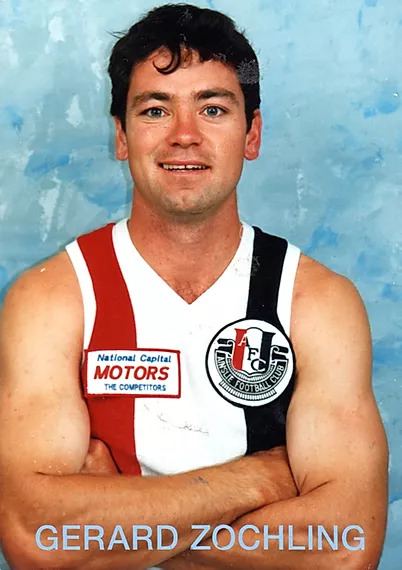 Gerard Zochling playing his 150th game was awarded the Alex Jesaulenko Medal for Best on the Ground in the Grand Final.
1995-Ainslie Second Grade Team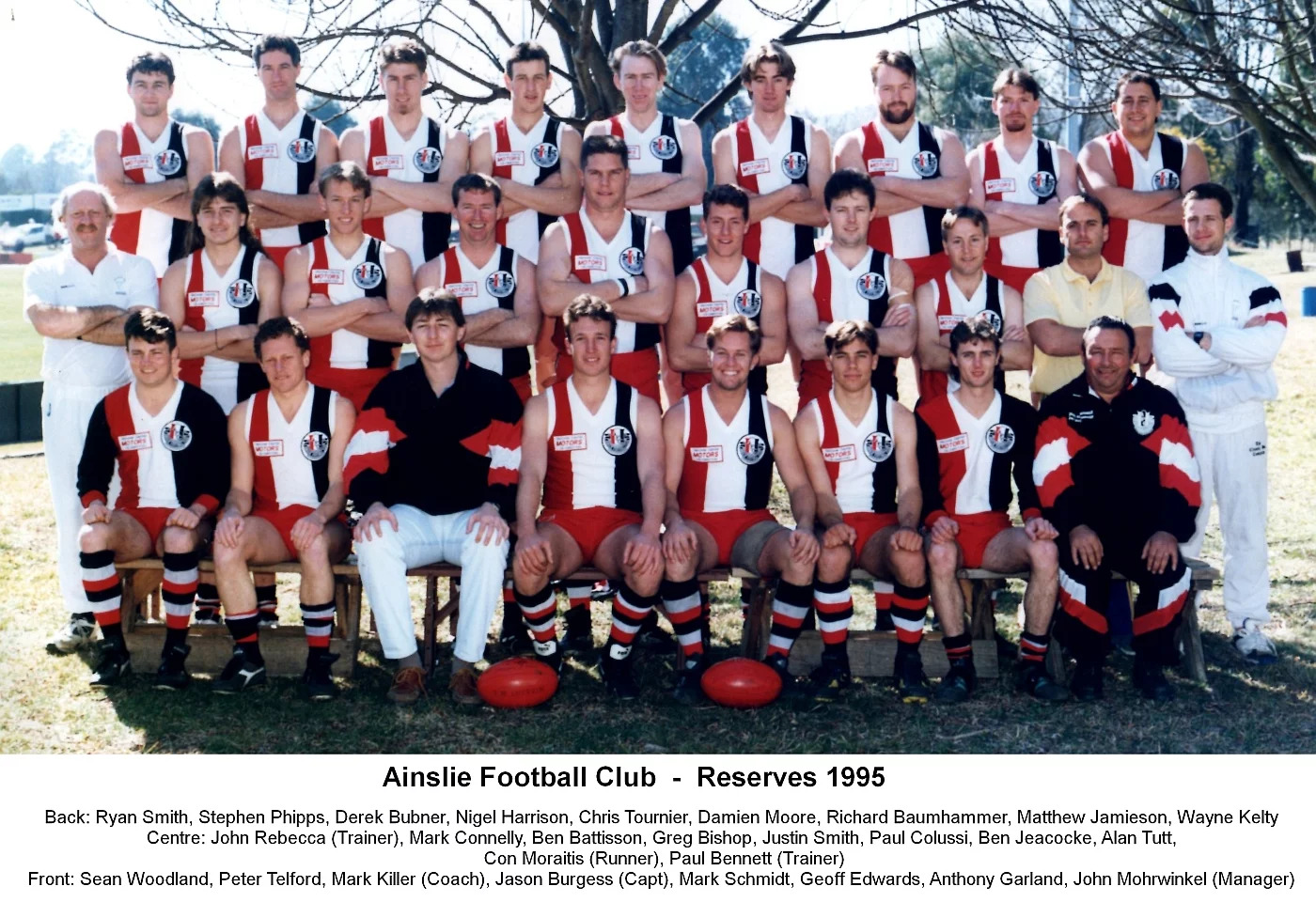 The Ainslie Second Grade team played Weston Creek in the First Semi-Final but were easily defeated by 54 points.
Final score: Ainslie 11.7-73 def by Weston Creek 20.7-127
Goal kickers for Ainslie: Burgess 2, Colussi 2, Garland 2, Edwards 1, Gilmour 1, Schmidt 1, R Smith 1, Tutt 1
Best: Phipps, Colussi, Schmidt, Burgess, Harrison
Coach: Mark Killer, Captain: Jason Burgess
1995-Ainslie Colts Team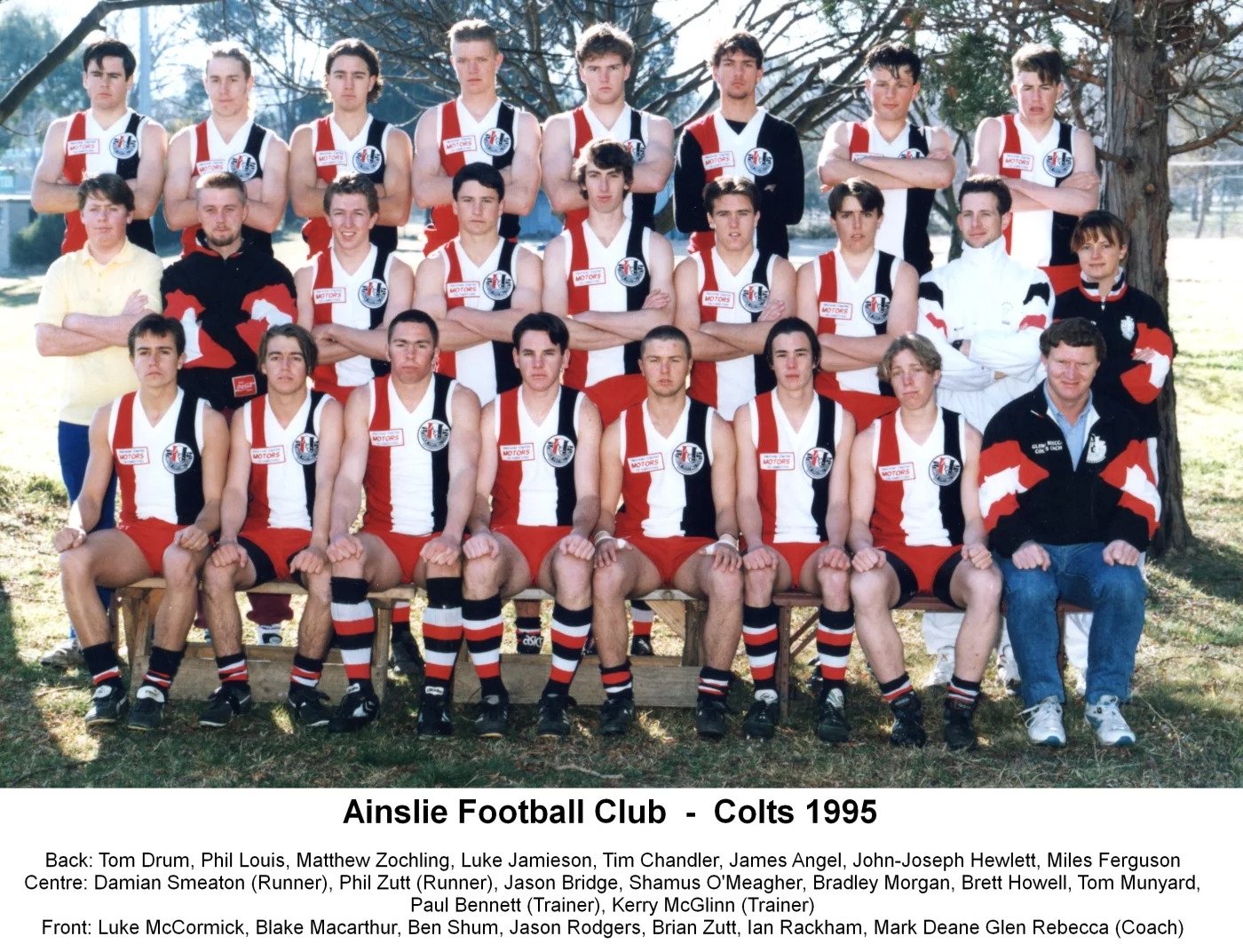 The Ainslie Colts played Queanbeyan in the First Semi-Final but were defeated by 28 points to finish in 4th place.
Final score: Ainslie 8.11-59 def by Queanbeyan 14.3-87
Goal kickers for Ainslie: Munyard 5, McCormick 2, Morgan 1
Best: Rogers, Deane, Morgan, Schum
Coach: Glen Rebecca
1995-Ainslie District Division Team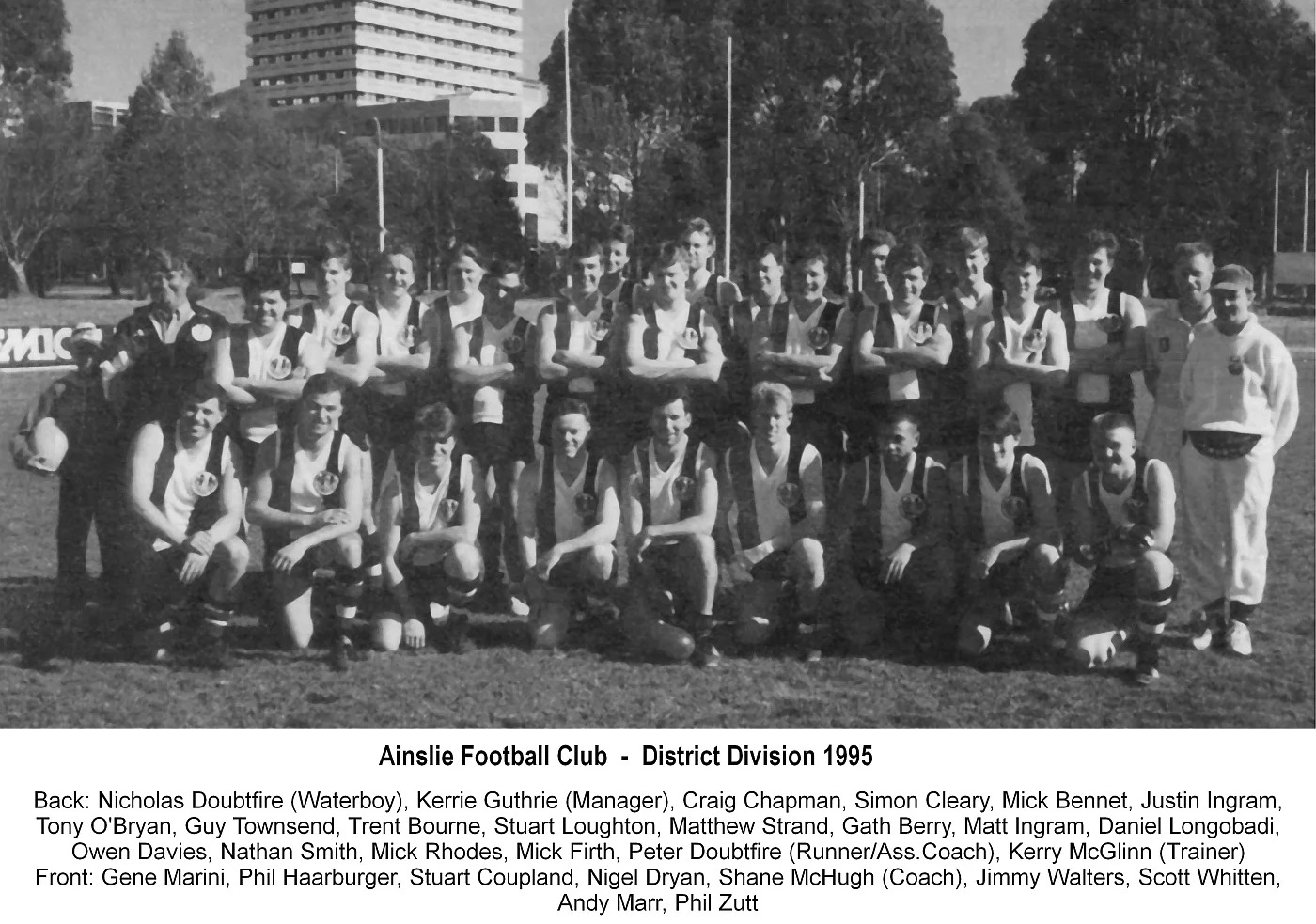 The District Division replaced the Monaro League. Ainslie finished the home and away season in fourth place.
Ainslie played Murrumbidgee in the First Semi-Final and  won by 50 points,
Final score: Ainslie 11.12-78 def Murrumbidgee 4.4-28
Goal kickers for Ainslie: M Ingram 3, Chapman 3, Walters 1, Widden 1, Manni 1, Mann1, McHugh 1
Best: Davies, M Ingram, Chapman, McHugh, Rhodes, J Ingram
Ainslie were defeated by University of Canberra in the Preliminary Final by 4 points.
Final Score: Ainslie 12.13-85 def by Uni of Canberra 13.11-89
Goal kickers for Ainslie: Chapman 2, Ingram 2, Marr 2, Woods 2, Berry 1, Davies 1, Harberger 1, Macini 1
Best: Rhodes, Marr, McHugh, Bourne, Whiddon
Coach: Shane McHugh, Manager: Kerrie Guthrie
Club Awards
First Grade
Best & Fairest: Aldo Dipetta
Runner Up B&F: Gerard Zochling
Most Consistent: Steve O'Brien
Most Valuable: Peter Banfield
Best in Finals: Robbie Miller
Best First Year Player: Paul Colussi
Coaches Award: Jason Burgess
Richard Fleming Memorial: Peter Ireland
Second Grade
Best & Fairest: Mark Schmidt
Runner UP B&F: Paul Colussi, Greg Bishop
Most Consistent: Nigel Harrison
Colts
Best & Fairest: Matthew Zochling
Runner Up B&F: Tim Chandler
Most Consistent: Jason Rodgers
Most Improved: James Angel
Ted Dhu Most Promising Player: Ben Schum
Bev Trebilcock Memorial Award: Tom Munyard
District Division
Best & Fairest: Shane McHugh
Runner Up B&F: Tony O'Bryan
Most Consistent: Craig Chapman
Most Improved: Andy Marr
Best in Finals: Michael Rhodes
Most Prominent Club Person: Kerry McGlinn
Club Officials
President: Bruce Glossop
Senior Vice President: Garry Marshall
Vice President: Garry Cox
Secretary: Keith Heales
Treasurer: Kel Duncan
Committee:  Ross Hincksman, Trevor Lond, Geoff McCormick, Andrew McGrath, Brett Muir, Stephen Read, Ralph Rendell
Patron: Stan Ray