In the Canberra League in 1996 there were eight Clubs, Ainslie, Belconnen, Campbelltown, Defence, Eastlake, Queanbeyan, Tuggeranong and Weston Creek.
Peter Banfield was appointed coach for his third season.
Preseason games were played against Lavington, Southport on the Gold Coast and at the Belconnen knockout Competition. Ainslie won all these games.
Ainslie won 15 and lost 3 of the home and away games and finished on top of the ladder.  They played second team Eastlake in the second Semi-Final and were able to win by 16 points to go through to the Grand Final.
Final score: Ainslie 13.7-85 def Eastlake 10.9-69
Goal kickers for Ainslie: M Richardson 4, R Langan 2, J Dickie 2, A Dipetta 1, T Pulford 1, C Whitsed 1, I Muir 1, M Kick 1
Best: M Kick, S Gibson, J Dickie, S Kent, M Richardson
Ainslie met Eastlake again in the Grand Final before a crowd of over 5000. The scores were level at half time and Ainslie held a 14 point lead at three quarter time before going on to win by 20 points. Ainslie won their fifth Premiership in succession equalling the record held by Eastlake back in the sixties.
Final score: Ainslie 12.17-89 def Eastlake 10.9-69
Goal kickers for Ainslie: M Richardson 3, R Langan 2, A Dipetta 2, C Whitsed 2, B Battisson 2, P Ireland 1
Best: K Howe, R Langan, A Dipetta, J Dickie, I Muir, S Kent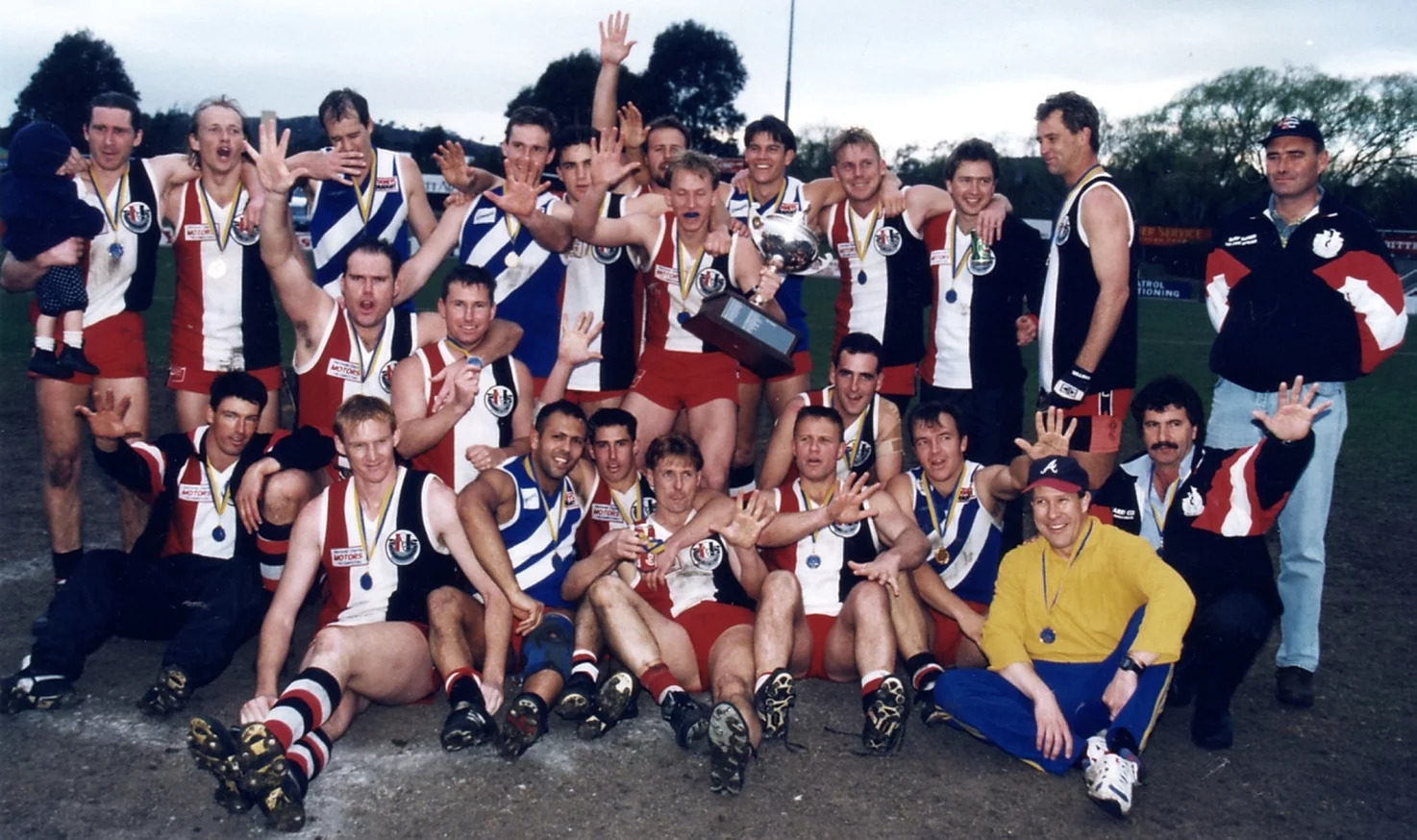 Ainslie players celebrate winning the 1996 Premiership
The Ainslie team selected for the Grand Final was:
Backs: Paul Gambale, Scott Gibson, Ian Muir
Half Backs: Robbie Miller, Stephen Kent, Martin Kick
Centres: Ryan Aitken, Peter Banfield, Andrew Bishop
Half Forwards: Scott Langen, John Dickie, John Lidgerwood
Forwards: Michael Richardson, Clint Whitsed, Aldo Dipetta
Rucks: Ken Howe, Reece Langan, Todd Pulford
Interchange: Paul Craig, Peter Ireland, Ben Battisson
A total of 37 players played First Grade during the season. Other players were:
Robbie Baxter, Greg Bishop, Peter Brown, Derek Bubner, Jason Burgess, Paul Colussi, Bruce Gilmour, Matt Gooden, Dean McGee, Damien Munday, Mark Schmidt, Mark Sinclair, Chris Smith, Andrew Wainwright, Sean Woodland, Matt Zochling.
Five Ainslie players were selected in the ACT Representative team that played against Port Adelaide. They were Peter Banfield (Capt./Coach), Ken Howe, Scott Langan, John Dickie and Clint Whitsed.
Ian Muir topped the Ainslie goal kicking with 44 goals.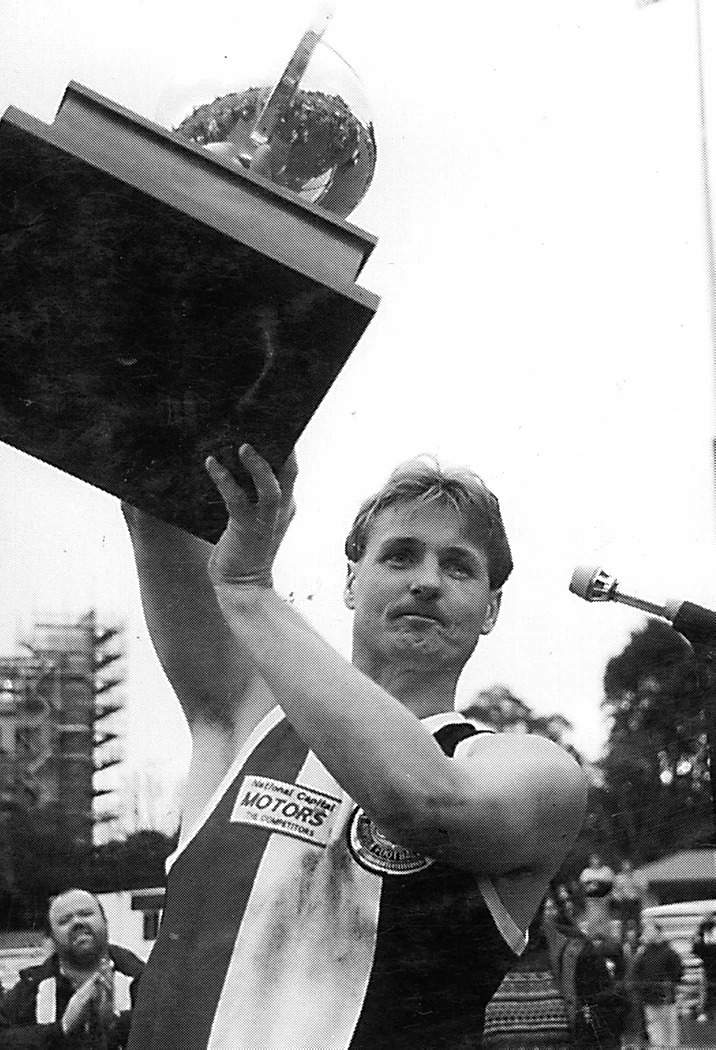 Capt./Coach Peter Banfield holds up the Premiership Cup
1996-Ainslie Second Grade Team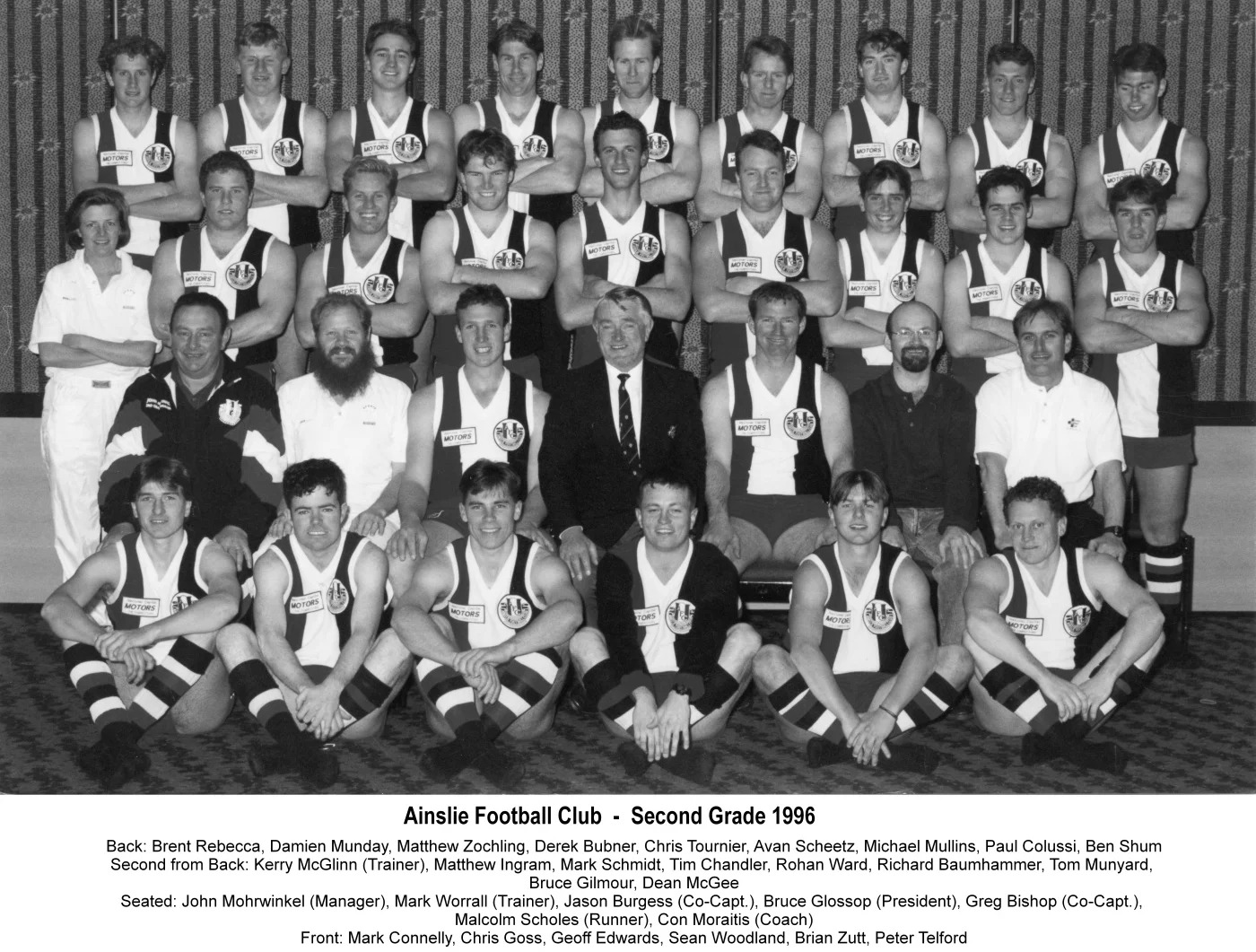 The Ainslie Second Grade finished the home and away season in third place.
Coach: Con Moraitis, Manager: John Mohrwinkel
Captains: Jason Burgess and Greg Bishop
1996-Ainslie U19 Colts Team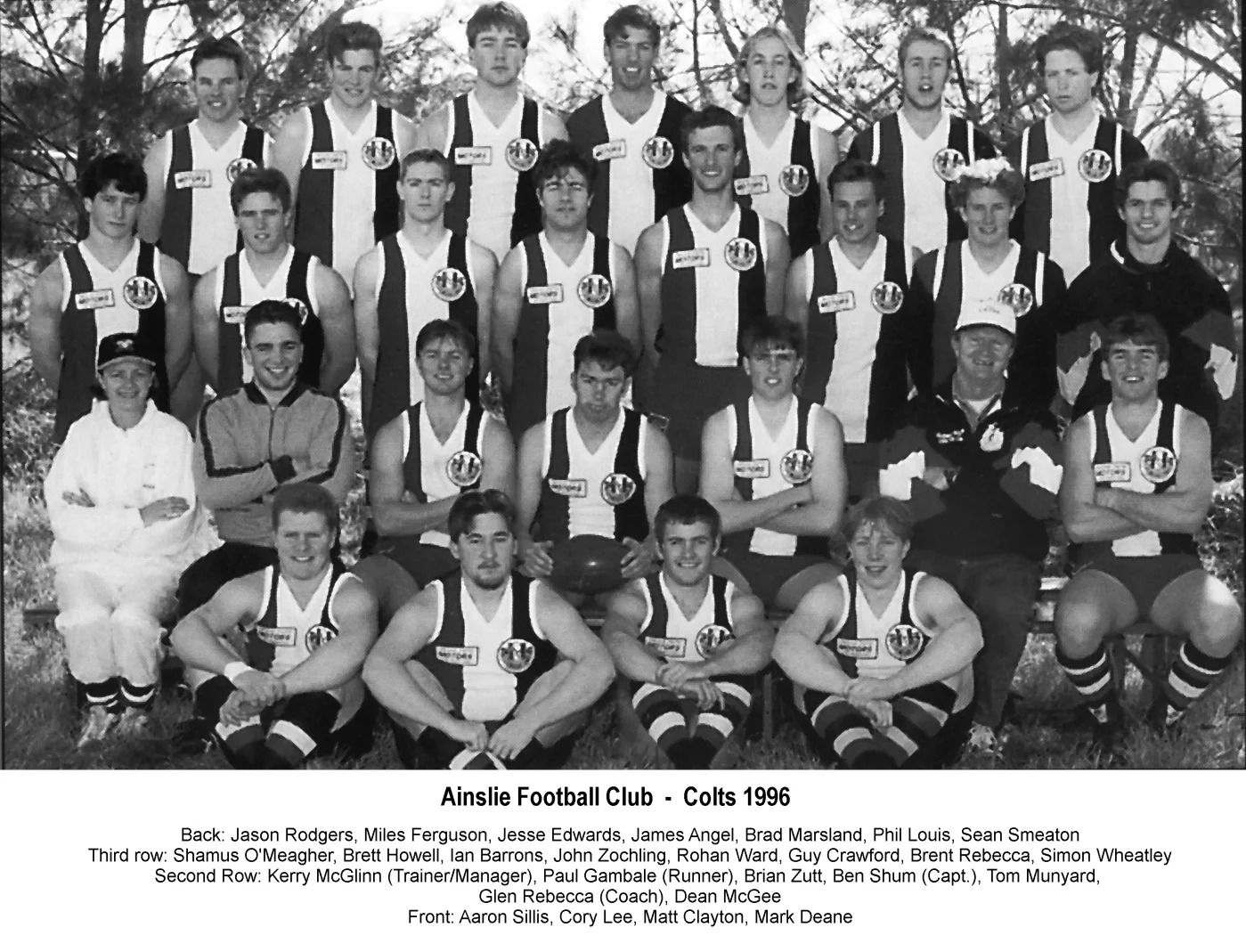 The Ainslie Colts team finished the home and away season out of the top four.
Coach: Glen Rebecca, Manager: Kerry McGlinn
Captain: Ben Shum
1996-Canberra District Team
Recorded only 3 wins for the home and away season finishing out of the finals.
Coach: Shane Schmidt, Manager: Kerrie Guthrie
Captain: Matt Ingram, V.Capt: Michael Bennett
Club Awards
First Grade
Best & Fairest: Reece Langan
Runner Up B&F: Stephen Kent
Most Consistent: Aldo Dipetta
Most Valuable: Todd Pulford
Best in Finals: Reece Langan
Best First Year Player: Andrew Wainwright
Coaches Award: Ian Muir
Richard Fleming Memorial Award: Pater Banfield
Second Grade
Best & Fairest: Robbie Baxter, Damien Munday
Runner Up B&F: Sean Woodland
Most Consistent: Derek Bubner
Best in Finals: Rohan Ward
Colts
Best & Fairest: Rohan Ward
Runner Up B&F: Simon Wheatley
Most Consistent: Ben Shum
Most Improved: Miles Ferguson
District
Best & Fairest: Matthew Ingram
Runner Up B&F: Justin Ingram
Most Consistent: Michael Rhodes
Most Improved: Matthew Day
Most Prominent Club Person: Noel McCormack
Club Officials
President: Bruce Glossop
Senior Vice President: Garry Marshall
Vice President: Garry Cox
Secretary: Keith Heales
Treasurer: Kel Duncan
Committee: Trevor Lond, Andrew McGrath, Peter Poke, Don Cross, Brett Muir, Geoff McCormick, Ross Hincksman