In the Canberra League in 1997 there were eight Clubs, Ainslie, Belconnen, Campbelltown, Defence, Eastlake, Queanbeyan, Tuggeranong and Weston Creek.
In 1997 Ainslie Football Club celebrated the return to the Ainslie Oval and the 70th Anniversary of joining the Canberra League.
Former North Melbourne player Ross Smith was appointed as coach.
Ainslie finished on top of the First Grade table at the end of the home and away games losing five games during the season.
Ainslie defeated Queanbeyan in the Second Semi-Final to go straight through to the Grand Final.
Final score:  Ainslie 11.12-78 def Queanbeyan 6.5-41
Goal kickers for Ainslie: I Muir 2, R Smith 2, P Craig 2, R Langan 1, A Dipetta, 1, G Gorman 1, M Kick 1, S Kent 1
Best: J Dickie, S Kent, G Gorman, M Richardson, M Kynaston
Ainslie met Tuggeranong in the Grand Final after they defeated Queanbeyan in the Preliminary Final. Ainslie were able to win their sixth straight Premiership winning by 34 points. This was a new League record.
Final score: Ainslie 14.8-92 def Tuggeranong 8.10-58
Goal kickers for Ainslie: P Craig 4, I Muir 4, R Langan 2, A Bishop 2, T Pulford 1, M Mullins 1
Best: R Langan, G Gorman, M Richardson, P Craig, I Muir
Grand Final Team:
Backs: Andrew Gillow, Scott Gibson, Martin Kick
Half backs: Ross Smith (Capt.), Mark Kynaston, Stephen Kent
Centres: Tommy Weetra, Glenn Gorman, Andrew Bishop
Half Forwards: John Ligerwood, John Dickie, Peter Ireland
Forwards: Todd Pulford, Ian Muir, Paul Craig
Rucks: Michael Richardson, Reece Langan, Marcus Sheridan
Interchange: Aldo Dipetta, Michael Mullins, Phillip Evans
Reece Langan was awarded the Alex Jesaulenko Medal for the Best Player in the First Grade Grand Final.
Ian Muir was the Club's leading goal kicker in First Grade with 44 goals.
During the season Andrew Bishop and Ian Muir played their 200th First Grade game for the Club. Stephen Kent played his 100th game.
Players that represented the ACT in 1997 were Reece Langan, Ross Smith, Todd Pulford, Robbie Miller and Martin Kick.
1997-Ainslie Second Grade Premiership Team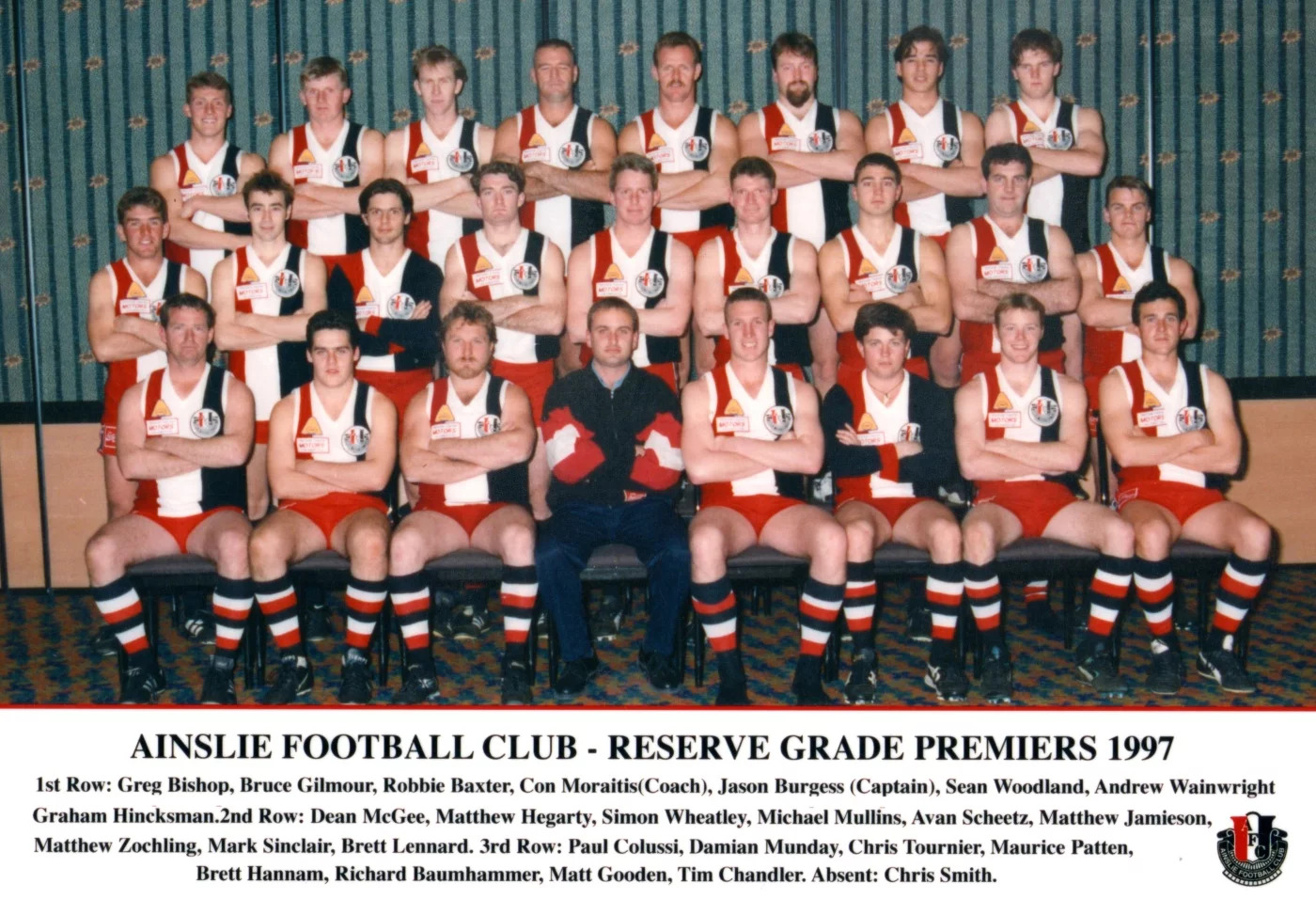 Ainslie Second Grade finished the home and away games in top position with 15 wins and 2 losses.
Ainslie played Eastlake in the Second Semi-Final winning by 21 points and going through to the Grand Final.
Playing Eastlake again in the Grand Final Ainslie fought back after being  5 goals down to win by 1 point.
Final score: Ainslie 15.11-101 def Eastlake 15.10-100
Goal kickers for Ainslie: Hegarty 4, Jamieson 2, Sinclair 2, Zochling 2, Baxter 1, Hannam 1, Ward 1, Wheatley 1, G Bishop 1
Best: Munday, Hegarty, Sinclair, Wainwright, Wheatley
The Second Grade Grand Final Team was:
Backs: Sean Woodland, Chris Tournier, Jason Burgess
Half Backs: Paul Colussi, Maurice Patten, Greg Bishop
Centres: Simon Wheatley, Andrew Wainwright, Chris Smith
Half Forwards: Matthew Zochling, Mark Sinclair, Dean McGee
Forwards: Matthew Jamieson, Brett Hannam, Matthew Hegarty
Rucks: Damian Munday, Bruce Gilmour, Robbie Baxter
Interchange: Graham Hincksman, Brett Lennard, Rohan Ward
Brett Hannam was the League's leading goal kicker in Second Grade with 50 goals.
Robbie Baxter won the J McNamara Trophy for the Best & Fairest in the League's Second Grade.
Coach: Con Moraitis
Manager: John Mohrwinkel