In the Canberra League in 1999 there were six Clubs, Ainslie, Belconnen, Eastlake, Queanbeyan, Tuggeranong and Weston Creek Wildcats.
Former Melbourne, Carlton and Port Power AFL player Brent Heaver was appointed coach.
Ainslie finished out of the finals for the second consecutive year.
Aldo Dipetta played his 100th First Grade game for the Club.
Brian Stanislaus was the Club's leading goal kicker with 30 goals.
ACT Representative players were: Paul Gambale, Dion Grant, Brent Heaver and Chris Smith.
Captain/Coach: Brent Heaver
Managers: John Rebecca, Brian Dobson
1999-Ainslie Second Grade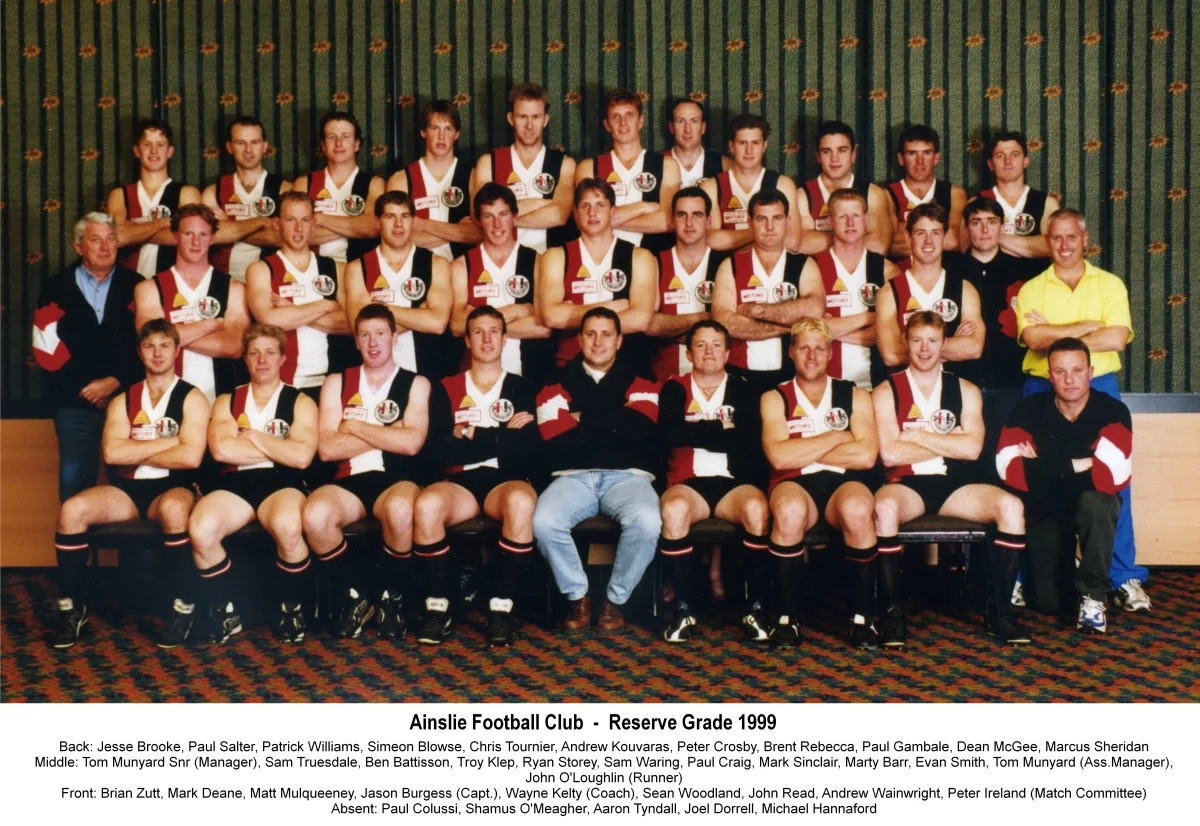 The Second Grade finished the home and away games on top of the ladder.
In the Second Semi-Final Ainslie defeated Belconnen by 9 points to go through to the Grand Final.
Final score: Ainslie 12.10-82 def Belconnen 11.7-73
Goal kickers for Ainslie: J Read 5, P Crosby 2, T Klep 2, M Sheridan 2, M Sinclair 1
In the Grand Final Ainslie again met Belconnen and defeated them by 31 points to win the Premiership.
Final score: Ainslie 14.14-98 def Belconnen 9.13-67
Goal kickers for Ainslie: J Read 4, P Crosby 2, B Rebecca 2, M Sheridan 2, J Burgess 1,T Klep 1, E Smith 1, M Sinclair 1
The Ainslie Second Grade Premiership Team was:
Backs: Sean Woodland, Simeon Blowse, Ryan Storey
Half Backs: Paul Colussi, Ben Battisson, Paul Salter
Centres: Evan Smith, Andrew Wainwright, Try Klep
Half Forwards: Jason Burgess, Mark Sinclair, Brent Rebecca
Forwards: Dean McGee, John Read, Peter Crosby
Rucks: Andrew Kouvaras, Aaron Tyndall, Marcus Sheridan
Interchange: Jesse Brooks, Chris Tournier, Sam Truesdale
Andrew Kouvaras was awarded the medal for the Best Player in the Second Grade Grand Final.
John Read led the League's goal kicking in Second Grade with 65 goals.
Coach: Wayne Kelty
Captains: Jason Burgess and Sean Woodland
Manager: Tom Munyard
Canberra District Division
The District team played in the finals but were defeated by Gungahlin in the First Semi-Final to finish in fourth place.
Women
The Ainslie Women's team played off in the Semi-Final but were defeated to finish in fourth place.
Club Awards
First Grade
Best & Fairest: Chris Smith
Runner Up B&F: Paul Gambale
Most Consistent: Todd Pulford
Coach's Award: Salem Kassem
Second Grade
Best & Fairest: Andrew Kouvaras
Runner Up B&F: Brent Rebecca
Most Consistent: John Read
Best in Finals: Andrew Kouvaras
District Division
Best & Fairest: Steve Glowrey
Runner Up B&F: Anthony Weston
Most Consistent: Tim Chandler
Leading Goalkicker: Graham Budd
Most Improved: Ben Thornton
Women
Best & fairest: Tracey Baxter
Runner Up B&F: Christie Williams
Leading Goalkicker: Jade McCormick
Most Consistent: Anne Kirwan
Most Improved: Tracey Axelby
Club Officials
President: Garry Cox
Secretary: Keith Heales
Treasurer: Kel Duncan
Senior Vice President: John Miller
Vice President: Craig Smith
Committee: Garry Cox, John Miller, Craig Smith, Keith Heales, Kel Duncan, Peter Ireland, Trevor Lond, Geoff McCormick, Stewart Morgan, Ian Muir, Peter Poke, Mark Sinclair
Patron: Alan Ray