First Grade
Pat Gribble was appointed the Coach of Ainslie. Pat had experience coaching teams in the Riverina area.
Ainslie First Grade played Tuggeranong in the First Semi-Final.
Final score: Ainslie 8.12-60 def by Tuggeranong 17.8-110
Goal kickers for Ainslie: G Gorman 3, G Zochling 1, B Thornton 1, P Gribble 1, J Read 1, P Gambale 1
Best: B Thornton, P Gribble, R Taylor, B Rebecca, A Kouvaras
Members of the ACT Representative team that played in the Australian Country Championships in Wagga were Pat Gribble, Todd Pulford, Mal Beattie and Richard Taylor.
Leading goalkicker for the Club in 2000 was Gerard Zochling with 24 goals.
The 38 Players who played First Grade were:
Malcolm Beattie, Jesse Brook, Jason Burgess, Glenn Chapman, Mark Deane, John Dickie, Aldo Dipetta, Dean Gagnon, Paul Gambale, Steve Glowrey, Glenn Gorman, Brent Green, Pat Gribble, Stephen Kent, Andrew Kouvaras, Nathan McDonald, Dean McGee, Craig McGough, Barry McLachlan, Anthony Pavey, Luke Pavey, Vincent Proud, Todd Pulford, John Read, Brent Rebecca, Paul Salter, Marcus Sheridan, Chris Smith, Evan Smith, Ryan Storey, Richard Taylor, Ben Thornton, Sam Truesdale, Andrew Wainwright, Peter Wallensky, Justin Wood, Gerard Zochling, Brian Zutt.
Captain/Coach: Pat Gribble
Ass. Coach: Aldo Dipetta
Manager: John Smith
Second Grade
Andrew Kouvaras won the League's Second Grade Best & Fairest Award, the J McNamara Award.
Coach: Wayne Kelty
Captains: Jason Burgess and Dean McGee
Manager: Tom Munyard
2000-Ainslie Under 18 Team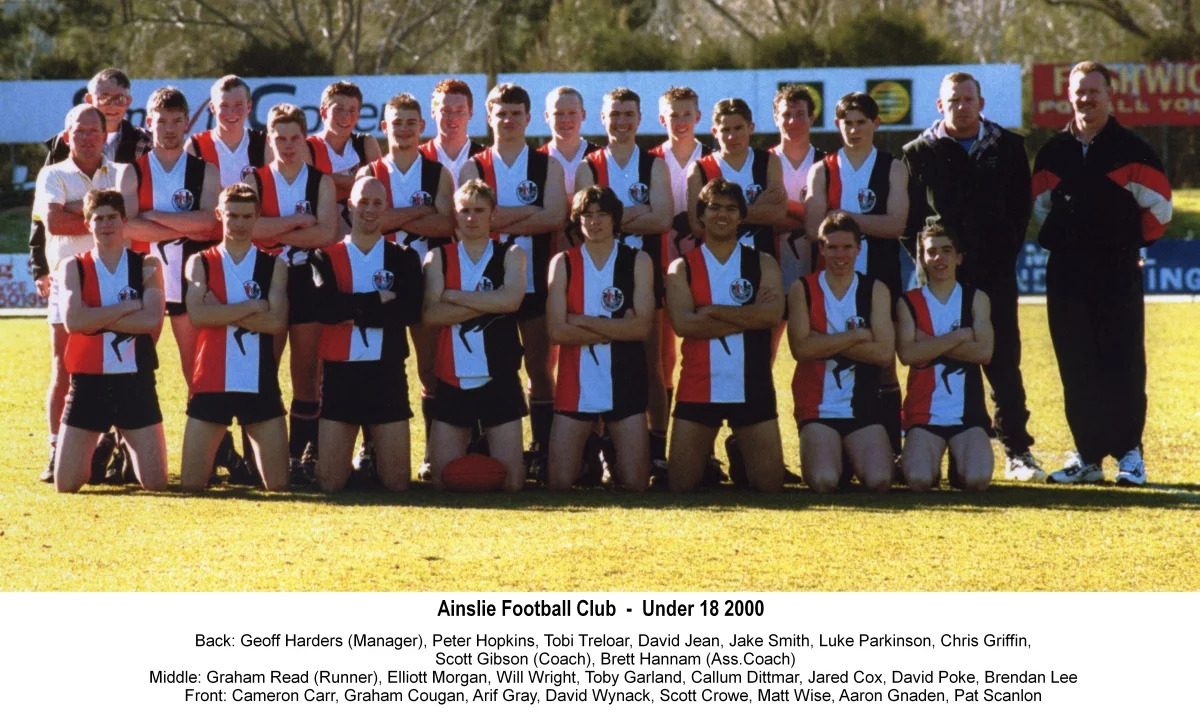 Scott Gibson was appointed coach of the Ainslie Under 18 team.
Coach: Scott Gibson
Ass. Coaches: Brett Hannam, Graham Read
Manager: Geoff Harders
District Division
Narrowly missed the finals falling short by 2 premiership points.
Coach: Dave Crawford
Manager: John Stannard
Women
Club Awards
First Grade
Best & Fairest: Todd Pulford
Runner up B&F: Paul Gambale
Most Consistent: Glenn Gorman
Coach's Award: Malcolm Beattie
Second Grade
Best & Fairest: Andrew Kouvaras
Runner up B&F: Dean McGee
Most Consistent: Evan Smith
Best in Finals: Dean McGee
Under 18
Best & Fairest: Glenn Chapman
Runner up B&F: Pat Scanlon, Jake Smith
Most Improved: Jared Cox
District Division
Best & Fairest: Luke Laffan
Runner up B&F: Tim Chandler
Best Clubman: Mark Field
Most Improved: Brett Jones
Leading Goal Kicker: Graeme Budd
Women
Best & Fairest: Kellie Brett
Most Consistent: Kendelle Treloar
Most Improved: Monica van Wensveen
Coach's Encourage Award: Raf Jarvis
Bev Trebilcock Award: Matt Wisw
Richard Fleming Memorial Award: Pat Gribble
Most Prominent Clubman: Ken Trebilcock
Office Bearers
President: Garry Cox
Senior Vice President: John Miller
Vice President: Craig Smith
Secretary: Keith Heales
Treasurer: Kel Duncan
Committee: Garry Cox, John Miller, Craig Smith, Keith Heales, Kel Duncan, Peter Ireland, Geoff McCormick, Stewart Morgan, Ian Muir, Peter Poke, Mark Sinclair, John Smith
Patron: Alan Ray