The 2001 Season had six teams competing, Ainslie, Belconnen, Eastlake, Queanbeyan, Tuggeranong and Weston Creek Wildcats.
Ainslie played Queanbeyan in the First Grade First Semi-Final, but were defeated by 3 points.
Final score: Ainslie 6.7-43 def by Queanbeyan 6.10-46
Goal kickers for Ainslie: G Gorman 1, B Jarmyn 1, R Langan 1, D McGee 1, P McGrath 1, B Thornton 1
Best: P Colussi, D Gagnon, M Seecamp, R Langan, J Brooke
Ainslie had three Representative players in the ACT team that defeated the Victorian Metropolitan League. They were Todd Pulford, Malcolm Beattie and Peter McGrath.
Two Ainslie players, Malcolm Beattie and Peter McGrath were selected in the AFL Canberra Team of the Year.
Peter McGrath was awarded the Best First Year Player award, the Eddie Walewicz Award.  Peter McGrath also led the Club's First Grade goal kicking with 20 goals.
Second Grade
Ainslie Second Grade defeated Queanbeyan in the Grand Final to win their 19th Premiership.
Final score: Ainslie 10.12-72 def Queanbeyan 7.6-48
Goal kickers for Ainslie: J Read 5, G Budd 3, D McGee, 1 B Sheehan 1
Best: T Conroy, S Wright, N Louis, J Read, A Kouvaras
Second Grade team for the Grand Final was:
Backs: Brian Zutt, Tim Chandler, Steve Wright
Half Backs: Nick Louis, James Angel, Jason Burgess
Centres: Mark Taylor, Sam Truesdale, Toby Conroy
Half Forwards: Troy Klep, Brad Duncan, Cassidy Fitzclarence
Forwards: Graeme Budd, John Read, Brett Sheehan
Rucks: Andrew Kouvaras, Glenn Chapman, Dean McGee (Capt.)
Interchange: Ben Leahy, Tom Munyard, Matthew Mulqueeney
Emergency: John Castle
Andrew Kouvaras won the League's Second Grade Best & fairest Award, the J McNamara Award.
Jason Burgess played his 200th Second Grade game for the Club.
Coach: Wayne Kelty
Ass. Coach: Trevor Treloar
Manager: Tom Munyard
Captain: Dean McGee   Vice Captain: James Angel
2001 Ainslie U18 Team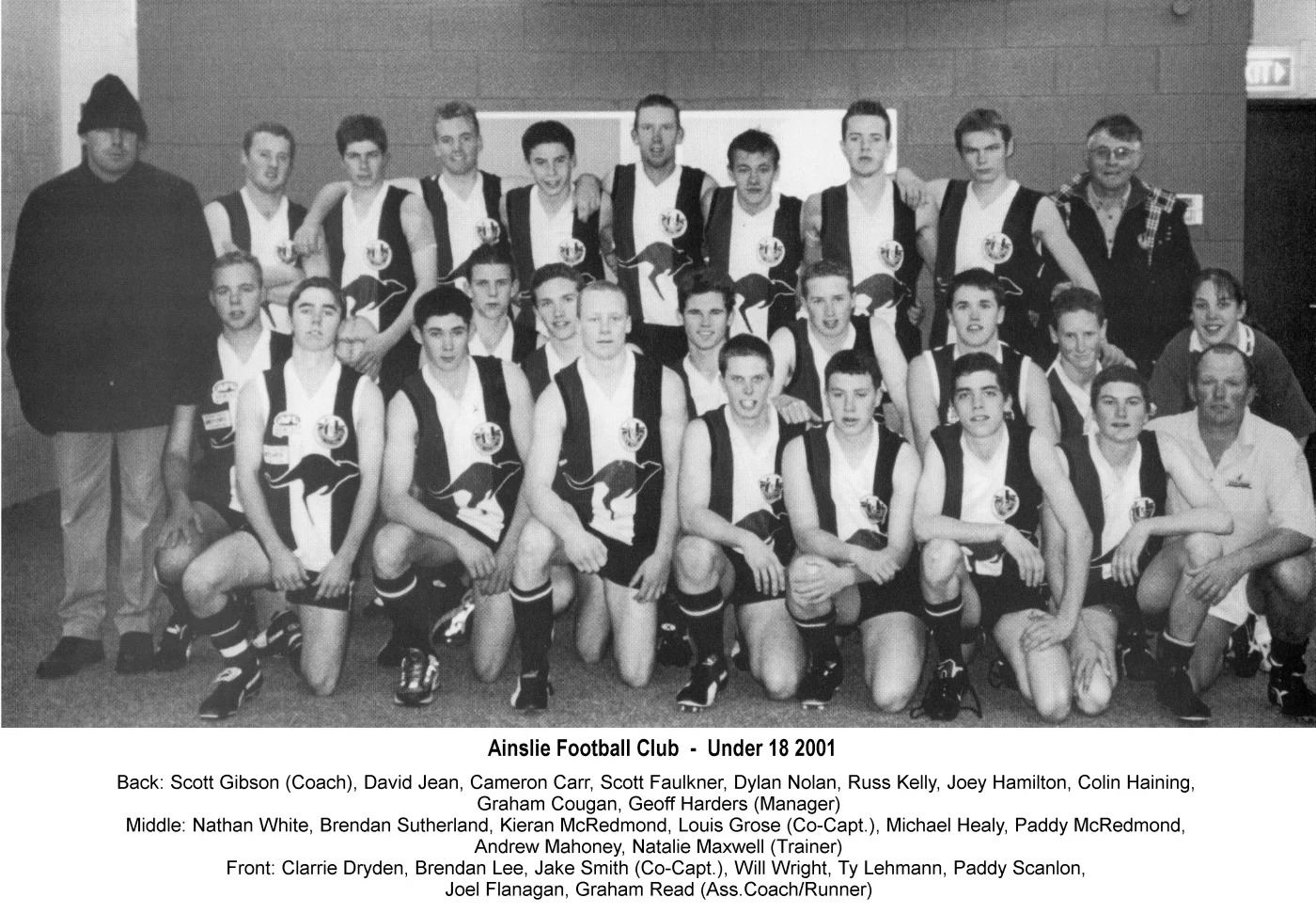 The Ainslie Under 18 team finished in third place after the home and away games.
Ainslie played Queanbeyan in the First Semi-Final and defeated them by 41 points.
Ainslie played Belconnen in the Preliminary Final but were defeated to finish third.
Coach: Scott Gibson
Ass. Coach: Graham Read
2001-Ainslie Thirds Team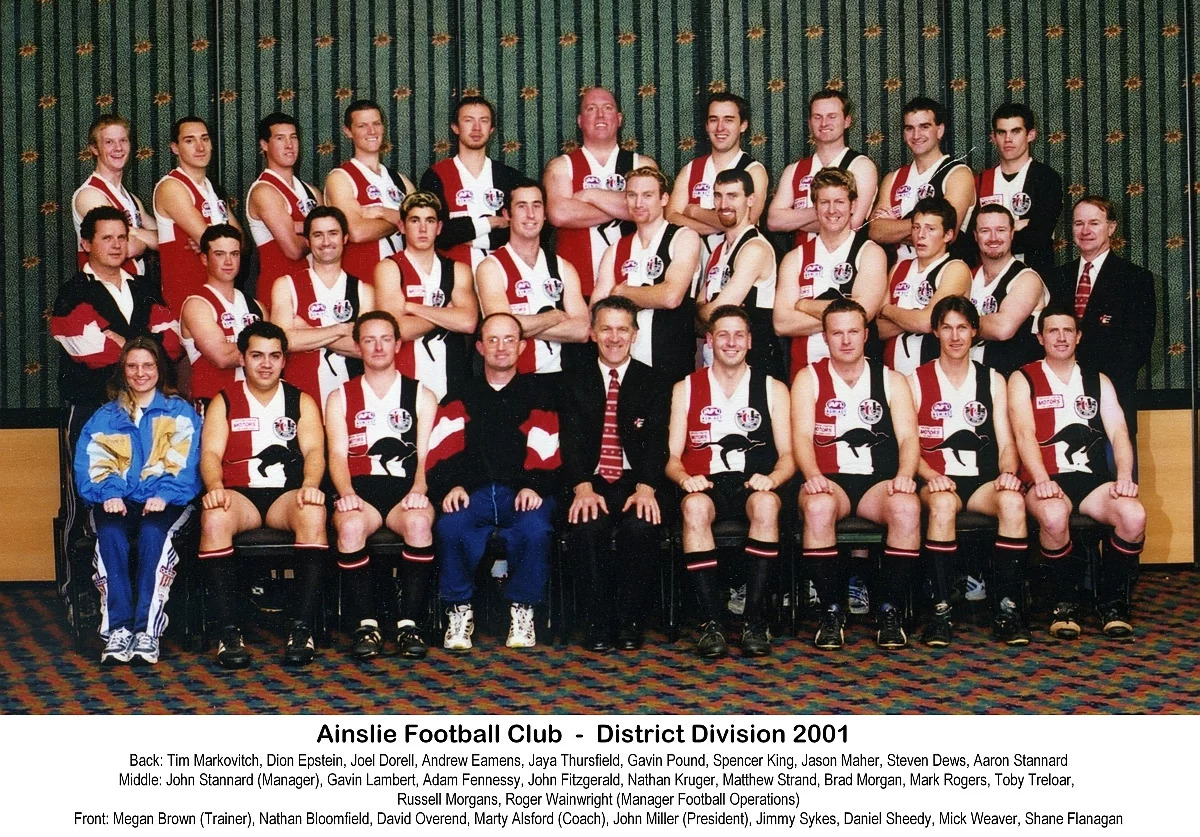 The District Division team missed out on the finals.
Coach: Marty Alsford
Manager: John Stannard
2001-Ainslie Women's Premiership Team