The Ainslie First Grade team finished in fifth position after the home and away games so missed the finals.
Two Ainslie players, James Kavanagh and Bevan Malloy represented the ACT at the Country Championships in Adelaide.
James Kavanagh, Bevan Malloy and Danny McCarthy were named in the AFL Canberra Team of the Year.
Kieran McRedmond was awarded the AFL Canberra Rising Star Award as the best first year player in the competition.
Reece Langan won the Ainslie Best & Fairest Award for the fourth time, a Club record. Reece also p[layed his 100th game for the Club during the season.
Danny McCarthy was the leading goal kicker for the Club with 68 goals.
The 37 players that played First Grade Games in 2002 were:
James Angel, Malcolm Beattie, Joe Bray, Jesse Brooke, Graeme Budd, Wade Carruthers, Toby Conroy, Paul Craig, Joel Feuerherdt, Joel Forsyth, Dean Gagnon, Glenn Gorman, Jared Gorman, Nathan Greatz, Pat Gribble, Louis Grose, James Kavanagh, Stephen Kent, Andrew Kouvaras, Reece Langan, Ben Leahy, Bevan Malloy, Danny McCarthy, Peter McGrath, Kieran McRedmond, Matthew Paul, Todd Pulford, Brent Rebecca, Justin Searle, Brett Sheehan, Craig Spencer, Ben Thornton, Sam Truesdale, Andrew Wainwright, Anthony Weston, Steve Wright, Paul Yates.
Coach: Jamie Shanahan
Ass. Coach: Wayne Kelty
Manager: John Mohrwinkel
In 2002 the Club celebrated its 75th anniversary being part of the local Canberra Australian Rules competition since 1927. A Wall of Fame was unveiled at the southern end of Ainslie Oval to recognise the history of the Club.
2002 Ainslie Second Grade Team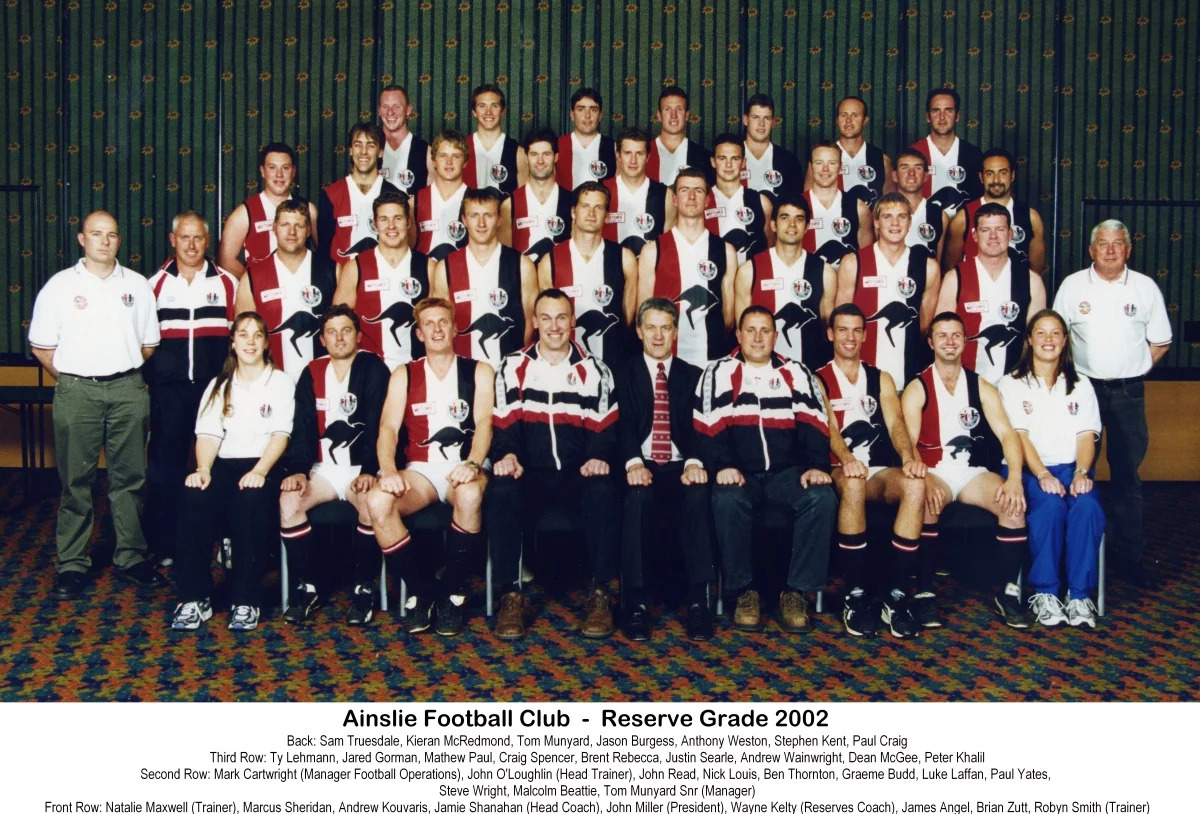 The Second Grade team finished in third place after the home and away games.
They played Belconnen in the First Semi-Final and were defeated by 2 points to finish fourth.
Final score: Ainslie 7.8-50 def by Belconnen 7.10-52
Goal kickers for Ainslie: Graeme Budd 2, Marcus Sheridan 2, Justin Wood 2, Jared Gorman 1
John Read kicked 78 goals in Second Grade in 2002.
Coach: Wayne Kelty
Ass. Coach: Trevor Treloar
Captain: James Angel
Vice Captains: Marcus Sheridan and Andrew Kouvaras
Manager: Tom Munyard
2002 Ainslie Under 18 Team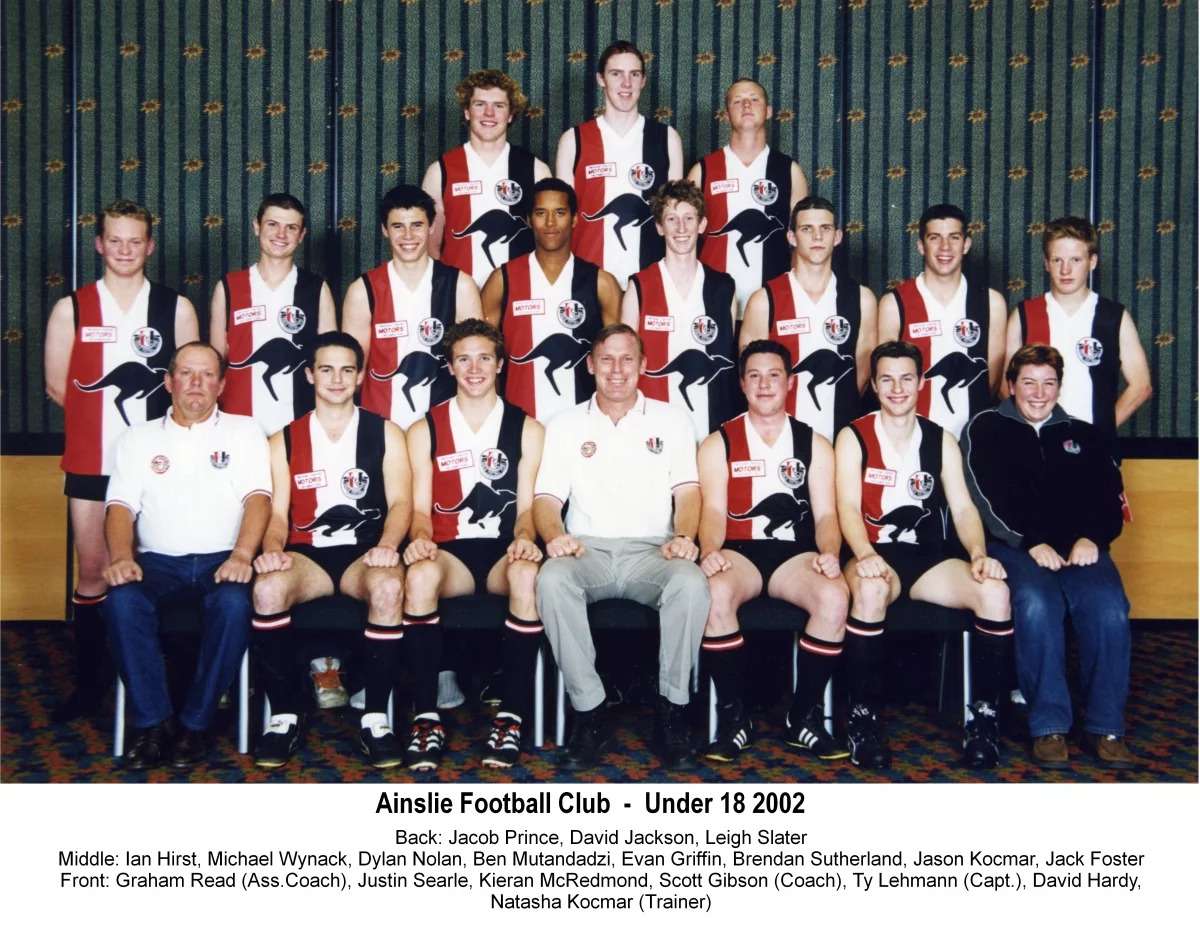 The Under 18 team finished the home and away in sixth place with 9 wins and 9 losses.
Three U18 players played First Grade in 2002, Kieran McRedmond, Louis Grose and Justin Searle.
Coach: Scott Gibson
Ass. Coach: Graham Read
Managers: Mick Lee and Geoff Harders
District Division
The District team finished in fourth place after the home and away games.
Ainslie were defeated by ANU in the First Semi Final to finish in fourth position.
Caoch: Marty Alsford
Captain: Dan Kenny
Vice Captains: Jason Williams and Stephen Dewes
Women's Team
The Women's Team finished in third place after the home and away games.
Ainslie defeated Belconnen in the First Semi-Final.
Ainslie were defeated by Tuggeranong in the preliminary Final.
Coach: Shane Gnaden
Manager: Barbara Wooderson
Club Awards
First Grade
Best & Fairest: Reece Langan
Runner Up B&F: Bevan Malloy
Clubman Award: James Kavanagh
Coach's Award: Nathan Greatz
Player's Player: James Kavanagh
Richard Fleming Memorial Award: Todd Pulford
Second Grade
Best & Fairest: Andrew Wainwright
Runner Up B&F: John Read
Best Club Person: Dean McGee
Player's Player: John Read
Under 18
Best & Fairest: Ty Lehmann
Runner Up B&F: Jason Kocmar
Best Club Person: Louis Grose
Most Promising Player: Jack Foster
Bev Trebilcock Award: Dylan Nolan
District Division
Best & Fairest: Ken Aitchison
Runner Up B&F: Carl Toohey
Most Consistent: Jake Smith
Coach's Award: Stephen Dewes
Women
Best & Fairest: Emily Diprose
Runner Up B&F: Summer Caston
Most Improved: Dani Curcio
Coach's Award: Emily Taylor
Most Prominent Clubman: Geoff Harders
Jaws Award: Peter Poke
Office Bearers
President: John Miller
Senior Vice President: John Smith
Vice Presidents: Peter Poke (Football), Ian Muir (Administration)
Secretary: Trevor Lond
Treasurer: John Smith
Committee: John Miller, John Smith, Peter Poke, Ian Muir, Trevor Lond, Ian Bradfield, Garry Cox, Geoff Harders, Peter Ireland, Fred Lehmann, Geoff McCormick, Mark Sinclair, Colin Williams
Football Operations Manager: Mark Cartwright