The Club appointed former St Kilda AFL player Brett Knowles as coach for two seasons.
The AFL Canberra First Grade competition consisted of 8 Clubs, Ainslie, Belconnen, Eastlake, Queanbeyan, Sydney Swans Reserves, Tuggeranong, Wagga and Weston Creek.
Ainslie Finished in third place after the home and away games with 11 wins and 7 losses.
Ainslie played Queanbeyan in the First Semi-Final but were defeated by 28 points to finish fourth. Ainslie led at half time by 2 goals but a strong third term by Queanbeyan in which they kicked 7 goals to nil sealed the game.
Final score: Ainslie 11.12-78 def by Queanbeyan 16.10-106
Goal kickers for Ainslie: Singh 4, Langan 2, Paine 2, Kavanagh 1, Knowles 1, Schuck 1
Best: R Langan, B Knowles, P McGrath, N Paine, B Singh, J Forsyth
Ainslie players to represent the ACT were James Kavanagh, Lucas Matthews, Peter McGrath, Todd Pulford and Joel White.
Ainslie players selected in the AFL Canberra Team of the Year were Brett Knowles, Lucas Matthews and Peter McGrath.
James Kavanagh was the Club's leading goal kicker in First Grade with 42 goals.
Captain/Coach: Brett Knowles
Second Grade
Ainslie Second Grade finished in fourth position after the home and away games with 6 wins and 9 losses.
Ainslie were defeated in the First Semi-Final by Eastlake to finish fourth.
Final score: Ainslie 11.12-78 def by Eastlake 14.12-96
Coach: Matt Conway
Captain: Tom Munyard
2003-Ainslie Under 18 Team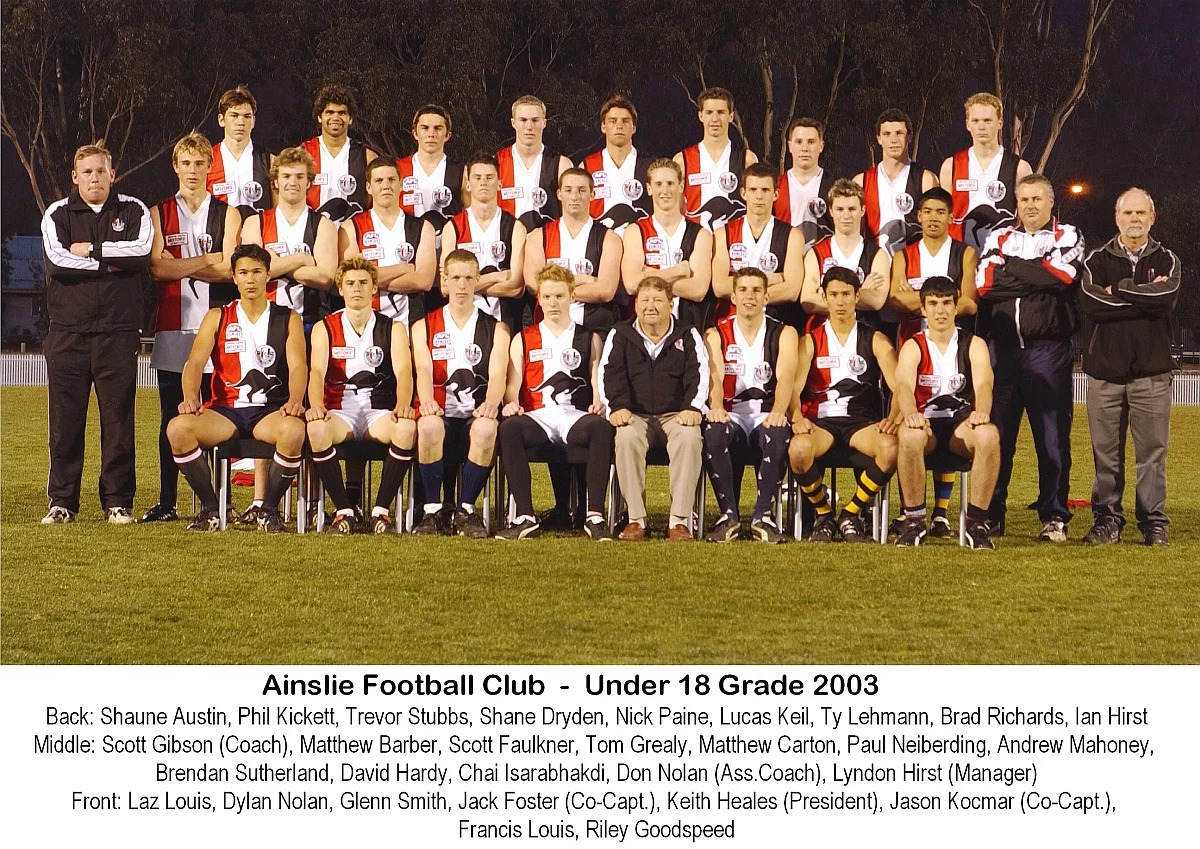 The Ainslie Under 18s finished in third place after the home and away games with 15 wins and 3 losses
They were relegated to fourth place after losing the First Semi-Final against Belconnen by 4 points.
Final score: Ainslie 7.2-44 def by Belconnen 7.6-48
Coach: Scott Gibson
Captains: Jason Kocmar, Jack Foster
Manager: Lyndon Hirst
District Division
Ainslie played in the AFL Canberra District Division 1 competition. After the Home and Away games Ainslie missed the finals finishing in sixth position with 3 wins and 13 losses.
Captain/Coach: Gavin Pound
Women
With the Ainslie Women's team having a high turnover of players and loss of experience the team did not win a game and finished at the bottom of the table.
Coach: Shane Gnaden
Managers: Daphne Hamilton, Lyn Randall
Club Awards
First Grade
Best & Fairest: Peter McGrath
Runner Up B&F: Joel Forsyth
Clubman Award: Reece Langan
Coach's Award: Daine Harrison
Rising Star: David Jackson
Past Player's Award: Peter McGrath
Second Grade
Best & Fairest: Wade Carruthers
Runner Up B&F: Andrew Wainwright
Best Club Person: David Jackson
Player's Player: Cassidy Fitzclarence
Under 18
Best & Fairest: Jason Kocmar
Runner Up B&F: Shaune Austin
Best Club Person: Matthew Barber
Most Promising Player: Brad Richards
District Division
Best & Fairest: Phil Henderson
Runner Up B&F: Justin Fromm, Mark Jillard
Most Consistent: Bill Kay
Coach's Award: Rod Foran
Women
Best & Fairest: Andrea Schmuck
Runner Up B&F: Dani Curcio
Most Improved: Bryony Webster
Coach's Award: Natalie Randall
Encouragement Award: Nicole Sherman
Other Awards
Bev Trebilcock Award: Glenn Smith
Richard Fleming Memorial Award: Brent Rebecca
Most Prominent Clubman: Gavin Pound
Jaws Award: John Smith